Winner of Archiproducts Kitchen Design Award Named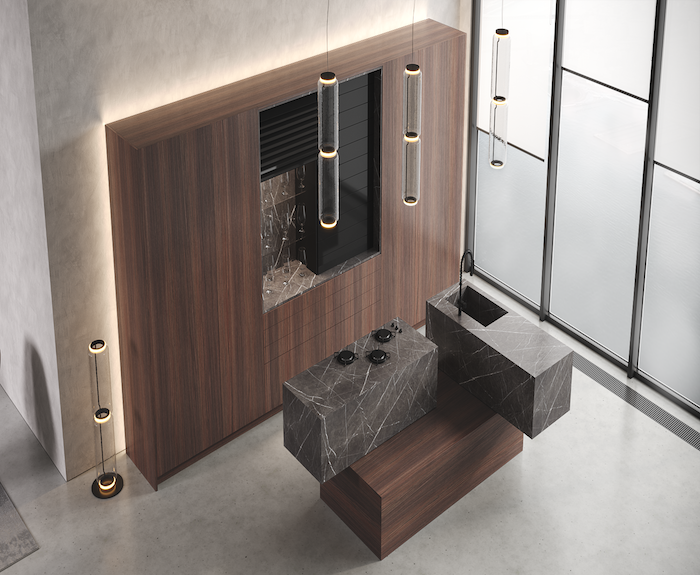 December 13, 2021
BT45 German Kitchen Tailors – the German manufacturer of the luxury bespoke kitchens – has won The Archiproducts Design Award 2021 for its kitchen The Alibi by BT45, designed by Natasha Shtapauk. Selected from over 750 submissions from the most renowned and sophisticated European kitchen manufacturers, The Alibi by BT45 impressed the jurors for its unique design concept, creativity and technology.
The Alibi by BT45 is intentionally designed to be extravagant, beautiful and functional. The combination of a dark eucalyptus wood wall and luxuriously polished-to-perfection Pietra Gris marble gives the kitchen a modern, almost industrial style and at the same time a sumptuous, warm feeling.
The marble cubes seem to float in the air, barely touching the concrete block. Each cube hides storage drawers: the front edge of the drawer and the edge of the countertop are cut at a 45-degree angle to create a perfectly seamless connection, and each bank of drawers looks like a solid marble block.
All BT45 kitchens are architecture- and design-oriented and combine the finest craftsmanship and the most advanced German technology, technical excellence and timeless beauty. "We are guided by the same design principles as the modern architects such as Le Corbusier, Walter Gropius and Mies van der Rohe: 'ornamentation is crime' and 'form follows function'," said Natasha Shtapauk, designer of The Alibi kitchen. "However, today the consumer not only seeks functional perfection in the purchased product, but also seeks to express their individuality through it."