Introducing "CEDIA Expo Connect" AI Matchmaking Platform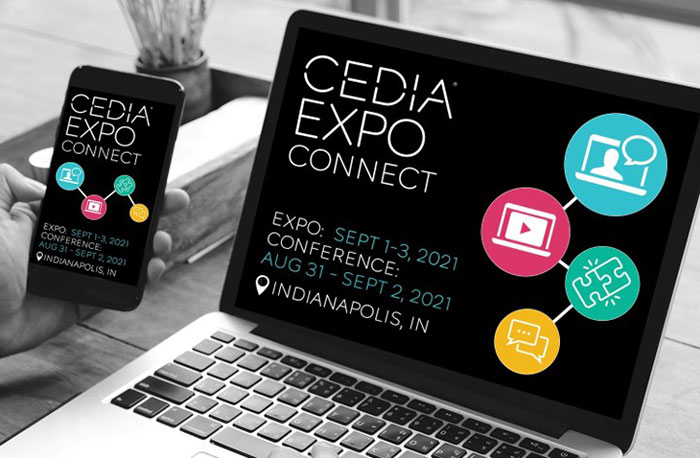 August 31, 2021
CEDIA Expo 2021, the platform where residential technology integration, designers and construction professionals connect, learn and engage, introduces "CEDIA Expo Connect," the new digital companion to the in-person show, driven by state-of-the-art AI. "Connect" is a powerful platform designed to facilitate smart business matchmaking, product discovery, and relevant content. It connects attendees to exhibiting brands and products pre-show, on-site and post-show.
"This new AI-driven matchmaking platform is a first for our industry, and it's so powerful we decided to make it available to all registrants before CEDIA Expo opens," said Jason McGraw, group vice president of CEDIA Expo/KBIS. "Offering the latest technology to bring attendees together with exhibitors is a very exciting opportunity for all. This platform is set to revolutionize the way exhibitors and attendees interface."
"CEDIA Expo Connect" provides smart matches, recommended for attendees based on self-described product interest. The platform additionally allows for chats and to request meeting times/appointments onsite. Exhibiting brands and products are easily searched by keywords or by selecting a category from dropdown lists.
This new show service platform will also host CEDIA's on-demand education sessions through attendees' personalized agendas linked to the show's registration system — a truly innovative experience for CEDIA Expo attendees.
Available on the CEDIA Expo mobile app, "CEDIA Expo Connect" allows for attendees to explore, match and meet on the go. The official CEDIA Expo mobile app also features the latest floorplan, exhibitor list and show schedule.
"CEDIA Expo Connect" Platform Live Dates
August 13
The platform opened to registered attendees
Sept. 1 – 3
In-person meetings with exhibiting brands and peers
Sept. 9
Missed Meetings Day – Conduct one-on-one meetings using the secured and proprietary video platform.
How to Update Your Profile, Network with Attendees and Set Meetings
Once logged in:
1. Update your profile under "Me" for others to know you better. It is recommend that you upload your headshot or best selfie.
2. View attendees' profiles that are ranked in order of relevance to you based on your registration profile. Click on the 'Meet' icon to connect.
3. Go to your calendar to manage your availability and meeting requests.