Cooking Together with Ease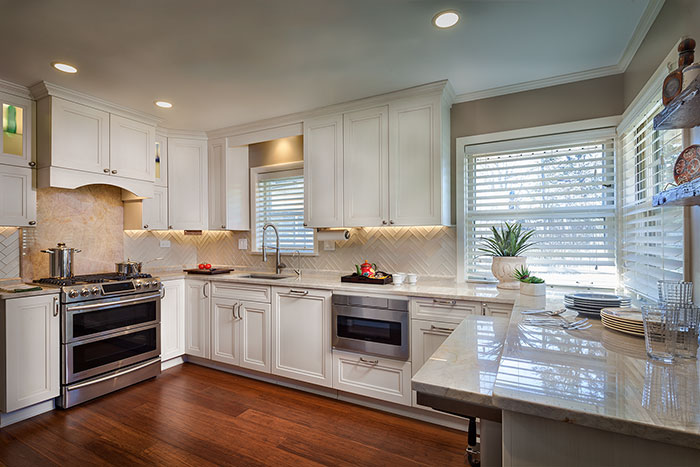 November 5, 2020
Designer Leslie Stern's clients originally just wanted to update their 1970s kitchen. However, one client was in her 80s, and Stern suggested that she would get the most out of a kitchen that also catered to her needs as she aged in place.
"I have seen too many spaces that are designed beautifully but do not address the client's current and future needs for mobility, light, accessibility and safety," said Stern.
The following are the changes she made to ensure both clients are able to easily use this space for years to come.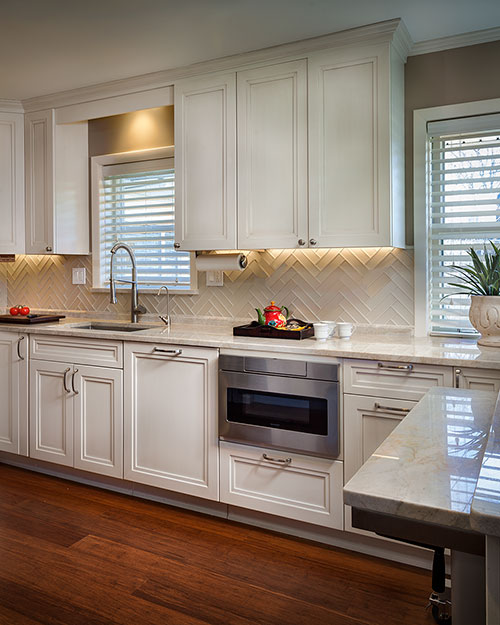 Photo Credit: Paul Schlismann Photography
Overall Lighting: The incandescent and fluorescent lighting were changed to LED to raise the light level and bring in daylight brightness and coloration. LED lighting is less yellow or blue than incandescent and fluorescent and more like daylight, which is better for the aging eye.
Undercabinet Lighting: LED undercabinet lighting was installed where none existed in the previous kitchen. The new undercabinet lighting also provide light to the work horse area of the kitchen: the countertops.
Countertops: The old counters were replaced with quartz countertops that are easier to clean. Use of ease is always appreciated as clients age.
Island Versatility: Originally, they asked for an island in the kitchen, but there was not enough room to place it in the middle of the space. Instead Stern designed a rollout countertop with storage on the bottom for an additional workstation. The rollout countertop has locking glides so one can keep it steady, and it won't move while being used.
Ventilation: The ventilation in the prior kitchen was changed out for a more powerful system. There used to be an old exhaust fan in the middle of the ceiling, and it was eliminated. The ventilation is also quiet.
Cabinetry: The new base cabinets were installed with rollout shelving for greater ease of use when opening a shelf to its full depth without losing one's balance. There are full-extension glides and self-closing drawers for use of ease and the ability to see the full contents in the drawers.
Flooring: The existing flooring was replaced with hardwood flooring, which is easier to repair, clean and is gentler on the spine when standing.
"I feel this is so important, so as they age the kitchen will still be safe, accessible and timeless," said Stern. "It is also good for resale for any family, regardless of their age and limitations."