Top U.S. Kitchen Design Trends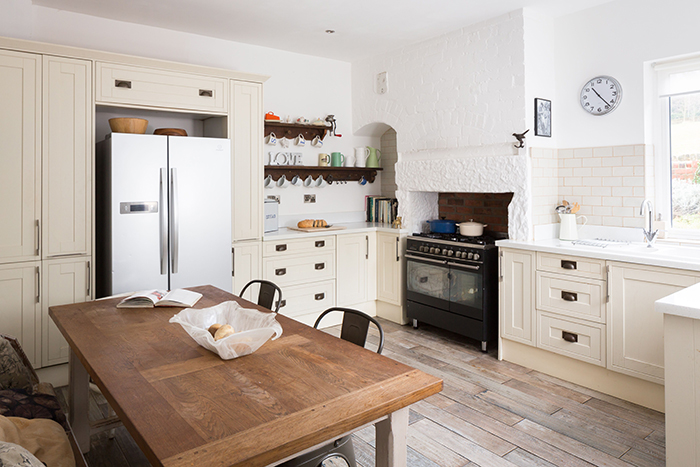 August 6, 2020
From cooking to conversations, all the way to homework help and parties, the kitchen truly is the heart of the home. Over time, the average American spends an average of 7.7. days in the kitchen each year. With such a long time being spent in the kitchen, it's no wonder you would want it to look as on trend and "Instagrammable" as possible. With so many colors and features to choose from, it can be hard to know what's a fad and which kitchen design trends are here to stay. Instagram is a hub of aesthetic kitchen styles, but which are the most popular?
A new report by Wren Kitchens has analyzed more than 500,000 Instagram posts in the U.S. to determine the top Instagrammable kitchen design trends for styles, features and color themes. See the trends that are here to stay below:
Modern and farmhouse styles are deemed the most 'Instagrammable'
The modern kitchen style – featuring a simple and sleek design – was found to be the most Instagrammable style of 2020, with 44,458 posts. This was followed by the farmhouse style with 20,364 posts, which usually features a more rustic, wooden and retro style.
The top Instagrammable styles can be seen below:
Style                      No. of posts
Modern                    44,458
Farmhouse              20,364
Country                    16,186
Traditional              10,599
Rustic                       8,119
Cottage                     5,441
Shaker                      4,108
Industrial                3,457
Minimalist              2,171
Transitional           1,883
Granite countertops are the most Instagrammable features for your kitchen
When it comes to kitchen features, the most Instagrammable trend of 2020 is a granite countertop, with 49,619 posts. Taking second place are pantry cabinets, usually a feature in a larger kitchen. The old-school vintage cupboards are not going anywhere, with 29,429 posts.
Feature                           No. of posts
Granite countertops        49,619
Pantry cabinets                 29,429
Quartz countertops          23,652
Kitchen islands                 23,436
Eco-friendly                      5,785
Brass faucets                     4,608
Copper hardware             3,698
Mosaic splashback tile   3,041
Induction cooktop           650
Farmhouse sinks             141

White kitchens are back!
White and black kitchens take the top spots with 48,753 and 27,528 posts respectively, followed by green and blue.
A full list can be seen below:

Color      No. of posts
White        48,753
Black         27,528
Green       23,423
Blue          15,470
Cream      13,106
Pink          5,459
Gray         5,358
Yellow     4,808
Peach      2,459
Floral      2,409
Launched in 2009, Wren Kitchens is a family business, and it manufactures its UK kitchens in its three manufacturing and assembling facilities. It has 92 showrooms in the UK and delivers fully-built cabinets, with doors, drawers and wirework pre-installed and delivered by Wren's award-winning fleet of trucks.