Social Distancing & an NKBA Update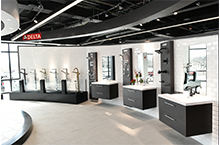 March 16, 2020
It's a little scary out there. Most everyone is working from home (including the staff at KBB), most events and gatherings have been canceled or postponed, and panic-buying is now the new norm. We've been gathering insight from designers across the nation (see our latest news feature HERE) and will continue covering how the virus is affecting design businesses as time passes. 
The one shining light so far is the innovation happening. Designers are learning more how to work remotely, which can spread their range of clients further. They are also trying out new aspects of the business, like online consulting for DIY-ers or providing expertise for smaller projects. Another plus is that everyone is learning to do business with (hopefully) less germs around. 
"We ask that personal desks be wiped down with Clorox wipes at the beginning of the day and before leaving," said designer Mary Douglas Drysdale, who is based out of Washington, D.C., one of the hardest hit cities in the U.S. "Wipes are provided at the entry door, and I ask everyone to wipe their hands before entering. We do not touch each other or our clients, and we even spray the mail and our drawings with Lysol."
Douglas is not alone in her precautions. Designer Anne-Marie Brunet of Sheridan Interiors is based out of Cornwall, Ontario – which has seen a surge in COVID-19 diagnoses over the weekend – and is being especially careful when it comes to new clients. 
"I have two new clients who are moving to my area and coming from virus zones," said Brunet. "I will be quizzing them as to what their health status is before going ahead with the scheduled consultations. If there's any hint of possible illness, I will reschedule them, and/or if this continues to worsen, I will most likely offer to do the consultations via Zoom or Facetime (at a reduced cost) – just to get the ball rolling."
In our industry, it's more than just distancing ourselves from clients – there is also each other we have to worry about. While chapter meetings, design chats and industry shows are wonderful tools, pressing pause on these gatherings is becoming a necessity – although most have been canceled already. Bill Darcy, NKBA CEO, let KBB know that the situation is being monitored, and the health and safety of members is a top priority. 
"Because the situation is changing rapidly and varies greatly by locale, we cannot recommend one blanket course of action to all of our members and chapters," said Darcy. "We recommend that NKBA chapter leaders pay close attention to their local authorities and exercise good judgement on whether to hold meetings or other chapter events."
The NKBA is encouraging chapter leadership to consider holding meetings virtually or consider postponing until more is understood about the nature and containment or spread of the virus. The association has also suspended all business travel and limiting in-person meetings in favor of virtual meetings and conference calls but still remains open for business to serve membership.
How are you managing the COVID-19 outbreak? Let us know on our Facebook page or on Twitter @KBB_online.