LX Hausys Teracanto Surface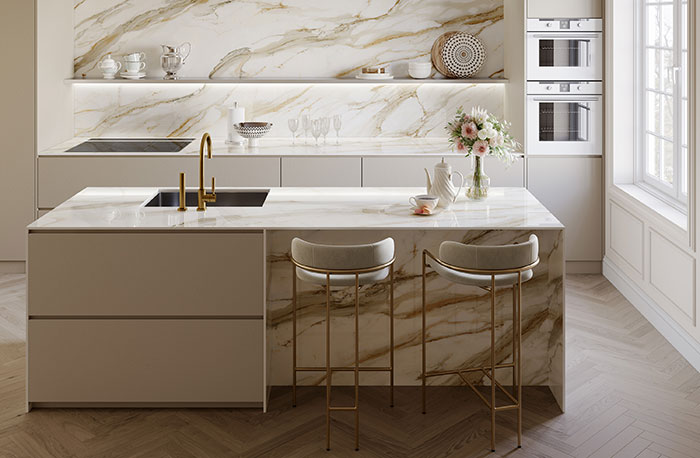 April 29, 2023
LX Hausys America Inc., an innovative manufacturer of building and decorative materials, is introducing a new porcelain surface brand, Teracanto. Inspired by the Earth's magnificent natural beauty and the transcendent sounds of harmonious music, the brand offers exceptional design versatility while bringing luxurious looks for residential and commercial applications. Teracanto joins LX Hausys' other surface brands – HIMACS Solid Surface and Viatera Quartz Surface – to bring enhanced, high-end design options to its customers.     
Manufactured in Italy without resins, fillers or additives and made with 100% natural ingredients, Teracanto's six colors are Calacatta Gold, Calacatta Extreme, Statuario Bianco, Arabescato Royale, Cristallo and Pietra Gray. Each color expertly resembles the organic look and feel of exquisite natural stone. Featuring superior strength and durability, the surface is an ultra-compact, lightweight material that is non-porous and safe for food contact. Easy to maintain, it is resistant to heat, scratches and chemical absorption. Due to its organic composition, Teracanto is UV resistant; its colors will not fade or become altered by the sun, atmospheric agents or smog. 
The versatility of the new surface makes it an ideal solution for horizontal or vertical applications for either indoor or outdoor design projects. Applications can range from countertops and showers to furniture, fireplaces, statement walls, flooring, exterior cladding and more.
Developed exclusively by LX Hausys America's design team and utilizing the industry's most advanced 600 dpi high-resolution capabilities, Teracanto's six colors feature patterns and colors ranging from warm and inviting to bold and provocative. Calacatta Gold, Calacatta Extreme, Statuario Bianco and Cristallo come in a polished finish with an enhanced scratch-resistant coating. Pietra Gray comes in a matte finish, while Arabescato Royale is available in a satin finish. All colors come in a full-size slab format of 63 by 126 inches and 1.2 cm thickness. Calacatta Gold is also available in a 2 cm thickness with Thru Vein Technology that allows the slab to show vein patterns through the body that look natural even on their edges. Calacatta Gold, Calacatta Extreme and Statuario Bianco can be bookmatched to offer even greater visual design interest.  All Teracanto colors are 100% recyclable.