New Ravenna & McKinnon and Harris Tables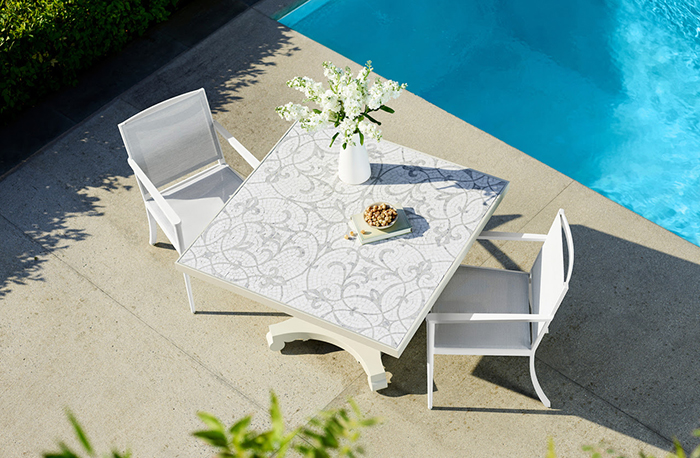 April 19, 2023
New Ravenna and McKinnon and Harris are pleased to announce their first furniture collaboration that combines custom aluminum tables with handcrafted stone mosaic surfaces. The two venerable companies, both based in Virginia, have each recently celebrated 30 years of artisan production. 
New Ravenna and McKinnon and Harris curated three tables to represent the collection, including the 45-in. Albemarle Square Dining Table, the 45-in. Mundy Round DiningTable and the 60-by-30-in. Parsons Coffee Table. The three mosaic patterns chosen for the collaboration debut are Raj, Rattan and Marabel. The stones have been polished, tumbled and honed to create texture and an interplay of light. 
When Will Massie, co-founder and CEO of McKinnon, and Richard Walters, New Ravenna CEO, met, they quickly formed a friendship based on shared values and a lifelong commitment to artisan craftsmanship, inspired by nature, art and local communities of talented craftspeople. A collaboration between these two Virginia-based brands is a natural evolution of their mutual respect. The tables are available in McKinnon and Harris's 21 finish colors, and mosaic patterns can be chosen from New Ravenna's entire gallery of designs for a bespoke creation. The tables are available to order at McKinnon and Harris showrooms.