Aran Cucine LAB13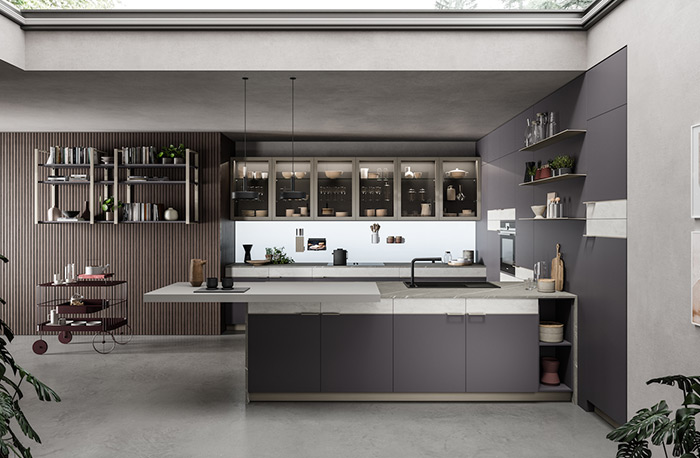 March 4, 2023
Aran Cucine's LAB13 family presents its new entry, introduced as an EuroCucina 2022 novelty, along with new restyling by Ulisse Narcisi. Starting from the base module of 78 cm and from one key characteristic of the LAB13 collection – the adaptability of the worktop at different heights – the capacity is more than 30% for wall cabinets and 15% for base cabinets also in this version.
With Module 13, Aran Cucine really checkmates with Scacco Matto – the homonymous bichromatic solution with 6 LPL color combinations and a horseshoe structure to exploit all the available space.
The working area is divided between the wall unit, which houses the induction hob, and the peninsula, with a single-bowl sink in black Fragranite. To link the two worktops in Pietra Piasentina, is the built-in equipped wall system. Perfectly in the middle, the oven becomes the focus of the entire composition and gives a perspective balance. Being equidistant by the cooking and washing areas makes it be in the most functional position to manage the preparations, giving great freedom of movement.

Also for this model, the storage capacity – increased by the 13 cm modules dimensions – is emphasized by the possible customizations of colors and finishes. The one of Scacco Matto is a dimension in which the game of shapes and colors becomes an inspiration for those who live in this space every day. The chromatic harmony matched with the materials alternation, indeed, allows to combine the home environment space with its use.