Cosentino Dekton Pietra Kode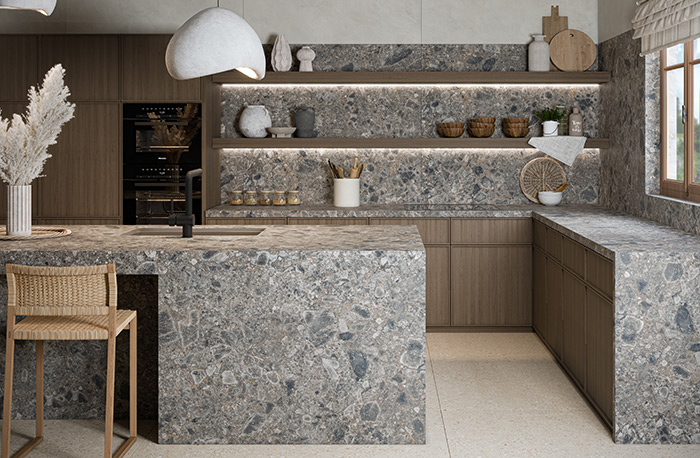 February 8, 2023
Introduced at KBIS 2023, Cosentino's newest Dekton collection Pietra Kode, an Italian stone inspired-collaboration with designer Daniel Germani. Dekton Pietra Kode reinterprets the timeless beauty of three classic Italian stones — Vicenza, Travertine and Ceppo di Gré. Each of these antique natural stones is "decoded" into Dekton, breathing fresh, contemporary elegance into these classic stones, with a focus on rich shades, textures, and timeless design. The ultra-durable, carbon-neutral Dekton surface allows the collection to be used in a virtually limitless range of indoor and outdoor applications.
While Germani's previous collections for the brand have often had an industrial bent, the seven hues that make up Pietra Kode channel the influence of Pietra di Vicenza, Travertine and Lombardia's iconic Ceppo di Gré on Italian architecture over the centuries.
In Vicenza Kode, four warm and versatile colors that reinterpret the code of classic Pietra di Vicenza. With neutral tones reminiscent of the earth and rich design that flows onto the edges, all coexist in perfect harmony and complement cream, wood and taupe palettes.
Travertine Kode reinvents Travertino. Found in vast deposits by the ancient Romans in the city of Tibur thousands of years ago, this stone was used throughout history and helped build the Roman Empire. Over the centuries this beautiful limestone inspired countless architects and artists. One can find it in buildings like the Colosseum, Pantheon, Trevi Fountain and the Vatican.
Ceppo Kode reinterprets the beauty of Ceppo di Gré. Often used in architecture in the Lombardia region of Italy, Ceppo is an excellent stone to design spaces that inspire us and connect us with nature. Brutalist in its nature, this stone makes a statement anywhere. Like Vicenza Kode, Ceppo Kode also features design along the edges, making it ideal for revealing applications.