L'Ottocento Atlante Nest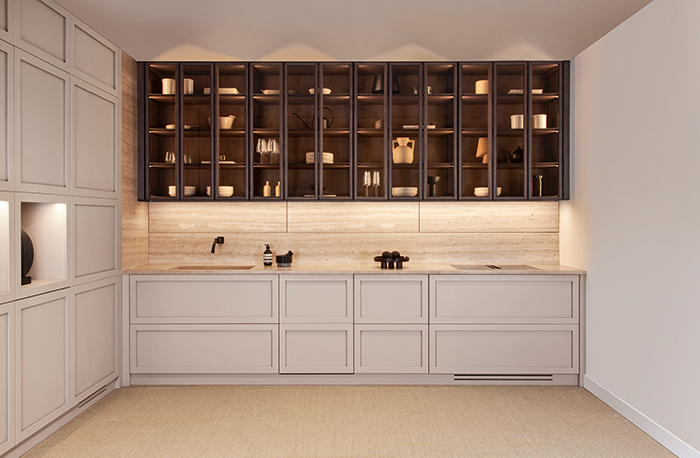 January 4, 2023
L'Ottocento enriches its Atlante collection with Atlante Nest, an elegant kitchen proposal featuring a traditional design combined with the clean look of boiserie, while always favoring precious and natural materials.
Atlante is the solid wood boiserie system that gives the kitchen a functional feel thanks to its full-height storage compartments, which can also be used in the living area in keeping with the theme of strong material expressiveness. In the Nest version, the Atlante kitchen, made of closed-pore lacquered wood, inherits the boiserie design concept in a more traditional configuration that plays on light tones and color contrasts.
The base units and fridge/oven tall units, designed to house shelves and electric appliances, express a sense of aesthetic discipline, echoing the collection's linear frame, and pair well with the tall wall display cabinets in solid wood and glass, complete with suggestive LED lighting. The natural travertine with a clear resin finish, used for the top and sink and continuing along the bottom to conceal handy recesses with flap openings, adds the finishing touch to the kitchen.
Timeless elegance, sophistication and practicality come together in this new kitchen environment from L'Ottocento, which can be customized to suit various space requirements and styles.