Dekton SilverKoast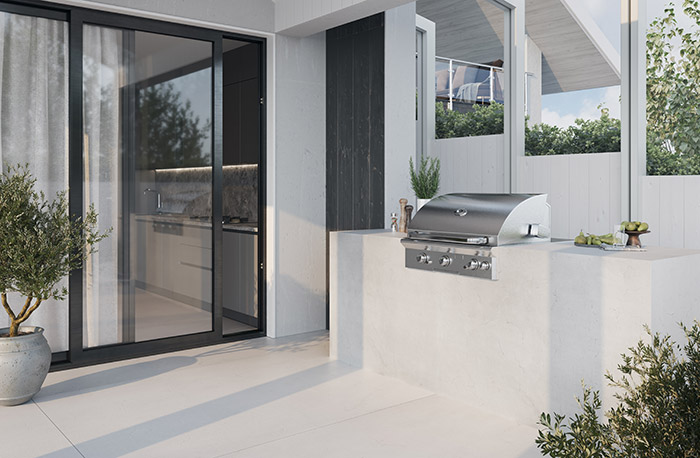 December 13, 2022
Cosentino Group introduces Dekton SilverKoast, a new series that draws inspiration from a journey through California's stunning coastline, as told through Carrara and ivory white marble-inspired designs and marks the first collection to feature the brand's new Quick Cut innovative technology.
Inspired by the serene whites of the Pacific, as well as some of the brand's best-selling Silestone designs, Dekton SilverKoast brings functional beauty to any architectural project. The performance features of Dekton such as high resistance to UV rays, scratches, abrasions and water, make it ideal for both interior and exterior applications. 
To help increase jobsite efficiency and ease the challenges of industry labor shortages, the SilverKoast Collection comes equipped with Cosentino's new Quick Cut technology – an innovation at the molecular level of the material that makes it lighter and easier to cut, while maintaining its industry-leading performance and durability. The result — a product that is three times faster to cut, easier to transport and install, with less tool wear and cleaner edges. 
The collection is available in two colors and offered in both a velvet matte as well as polished finish, which boasts Cosentino's XGloss technology to produce a dazzling crystalline shine. With best-in-class performance and versatility of applications, the SilverKoast Collection brings luxury and elegance to a variety of spaces at an accessible price.
Carrara Marble-Inspired Designs

​​Salina XGloss finish (polished): This design reproduces the whimsical salt patterns that the low tide leaves on the sand and rocks. These delicate white ridges materialize in an asymmetrical pattern of gray veins on a white base that reinterprets the classic elegance of Carrara marble. 
Marina Velvet finish (matte): The purest representation of natural stone, Dekton Marina conveys elegance and serenity, calmness and well-being. It is a perfect color to combine with any space. With its white background and cold veins, it is ideal to combine with any material in any room.

Ivory White Marble-Inspired Designs

Malibu XGloss finish (polished): Malibu conveys simplicity. It delivers a warm color that mixes a white background with short veins that are distributed throughout the table to build a simple but complete color. 
Laguna Velvet finish (matte): Laguna is inspired by the white sand, the reflections of the sun and the waves of the California coast, which are captured in subtle and delicate veins on an ivory white background.