Fisher & Paykel Series 11 Combination Steam Oven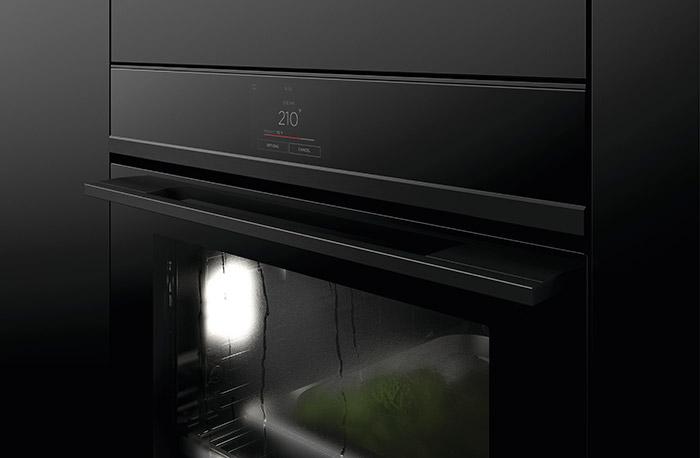 November 21, 2022
Fisher & Paykel is pleased to announce the launch of its Series 11 24-in. Combination Steam Oven. Expanding upon the brand's existing steam and convection oven technology, this new solution is intuitive and offers precise temperature control with steam-only cooking, convection-only or a combination of both cooking modes with a total of 23 oven functions. With its multi-function flexibility, the Series 11 Combination Steam Oven is designed to match with companion products such as vacuum seal drawers, for optimal use of sous vide. Available in Fisher & Paykel's Minimal (subtle black glass) style and new Contemporary style, this new oven allows users to effortlessly create healthy and delicious meals.
The Combination Steam Oven boasts one of the largest full steam oven cavity capacities on the market at 3 cubic feet, making it fit for family meals and moments of larger scale entertainment. Offering Steam Regenerate, Steam Proof, Steam Defrost, Sous Vide, Steam, True Aero + Low Steam, True Aero + High Steam and Crisp Regenerate, the choices for perfect-results steam cooking are abundant across this new appliance. With five steam-only cooking functions, plus four combi-steam functions, this oven lets users enjoy the benefits of flavorful and healthy meals with ease. Convection function highlights include Dehydrate, AirFry, AeroBake and Rapid Proof. Moisture control (for steam functions) and even heat distribution is assured through Fisher & Paykel's ActiveVent and AeroTech technology. 
Designed with Fisher & Paykel's intuitive touchscreen interface, the new Combination Steam Oven allows users to cook by function, cook by food type or cook by recipe. With this easy-to-use and ergonomic technology touchpoint, users are given the option to be guided step by step through the cooking process, or, for more seasoned cooks, can choose a desired function directly. A water line is not required for the installation of this appliance, rather a 50 fluid ounce water tank is located behind the touchscreen panel which simply drops down for easy refilling. 
As one of the healthiest food preparation methods, steam cooking allows for the retention of up to 50% more nutrients across fish, poultry, starches, veggies and more. The use of steam also eliminates the need for butter or oils as cooking agents. In addition to nutritional benefits, steam cooking is a fast and efficient way to prepare food and or reheat leftovers, ultimately providing a solution to help reduce household food waste. Steam helps to regenerate moisture levels in refrigerated meals ensuring that the reheated food is fresh and delicious.