Viking Range French-Door Refrigerator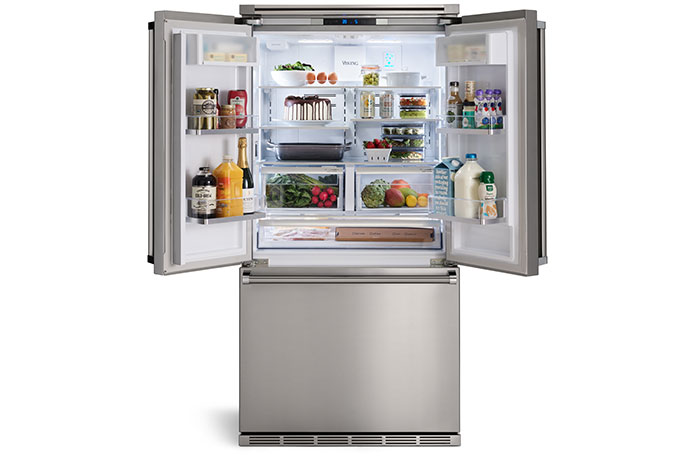 August 3, 2022
Viking Range LLC is pleased to announce the release of its freestanding French-Door Refrigerator with a bottom-freezer to the already existing Viking 3 Series fully integrated product line. This refrigerator is Energy Star Qualified. 
Ultimate food preservation can be achieved through ProFresh Technology. The refrigerator has two Humidity Zone Drawers with ProFresh Technology. Profresh keeps fresh food fresher three times longer than the average refrigerator – tested by SGS to keep food fresh for up to 30 days. This amazing technology simulates natural light conditions to extend the photosynthesis process within the Humidity Zone Drawers keeping fresh produce fresher. 
The refrigerator also includes features such as IonGuard which effectively eliminates odors and creates a fresh-air environment without ever needing to replace a filter or losing effectiveness. 
Innovative features for the Viking 3 Series refrigerator include a Feather Touch water dispenser. The internal dispenser allows filtered cold water to be accessed by a one-hand fill operation. Six adjustable door bins maintain a consistently cold temperature for drinks and condiments that reside in the door. A premium water filter for both the water and ice ensures that the freshest ice and water are served. 
In addition, the large full-extension ColdZone drawer can be pulled all the way out and fits a 14-in. pizza box. Theater ramp-up LED lighting provides excellent visibility throughout the unit. The Quiet Cool refrigerator operation is rated at 39 dB and has two variable speed compressors. 
A door alarm will sound when the door has been ajar for an extended period. Additionally, there is a sabbath mode, vacation mode, and eco mode that can be selected on the electronic controls with digital readouts. 
The 3 Series bottom freezer contains a ProPower Ice Maker with a full-extension ice bin. The ice maker has an ice-making capacity and produces up to 11 pounds of ice in just 24 hours with a tap water connection. The ice bin ensures that no ice spills over into other freezer drawers. The bin is easily removable, and its contents are easily accessed by the interior illumination.