Robam Black Gold Series Cooktop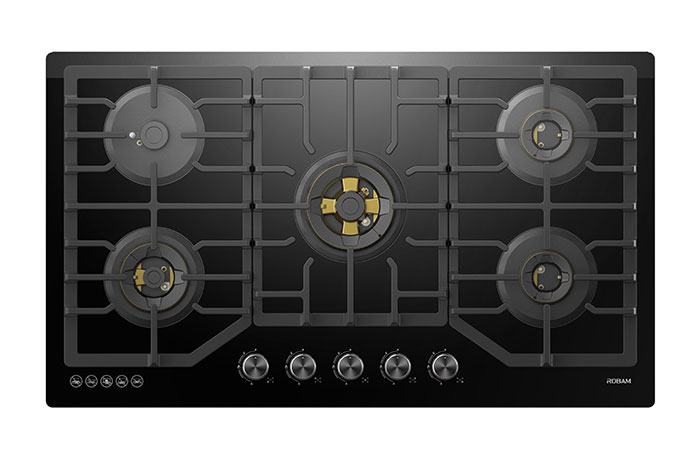 June 15, 2022
Robam reveals its latest pro-style five-burner cooktop, the Black Gold Series ZG9500B. Designed using an elegant combination of black stainless steel, matte cast iron grates and a black tempered glass control surface, this stylish gas cooktop brings a sense of sophistication to a modern kitchen aesthetic. The Black Gold Series cooktop from Robam also brings professional level performance with precision-engineered Defendi brass burners that offer total control and stable flames with up to 17,000 BTU capacity for continuous high-heat cooking. Brass burners outlast conventional burners, remaining durable and withstanding corrosion even through the harshest of cooking conditions to provide home chefs with an enjoyable cooking experience that will last for well over a decade.
​​Designed with an intense attention to detail, the unit's custom designed burners incorporate a four-directional air outlet that distributes flames evenly and increases the contact area between the flame and any pot, wok or pan. Cooking equipment like pots easily glide across the surface of the cooktop's matte cast iron grates for unhindered and efficient cooking and cooling.
The simple, elegant black tempered glass control surface is kept clean with minimal effort, and the cooktop's burners can be disassembled in seconds to remove any grease, oil or food left behind from the cooking process. An enamel water tray at the base of each burner also traps liquids for convenient clean-up after cooking while ensuring that the cooking surface remains spill-free.
Additional Features of the Black Gold Series
Precision control over the cooking process, enabled by the cooktop's five burners:

Left rear burner: 3,200 for low, steady flame

Right rear and front burners: 7,000 BTU for dishes that require sustained heating, such as pasta or stew

Left front burner: 10,000 BTU for sautéing

Central burner: 17,000 BTU for high heat cooking or stir-frying

Knobs and burner elements are designed to ensure no cooking oil, water or other liquids seep through the surface of the cooktop.

A thermocouple flame sensor detects and triggers the cooktop to automatically shut off in the event of unsafe flame conditions.