Abimis Mirror Finish Cold Control System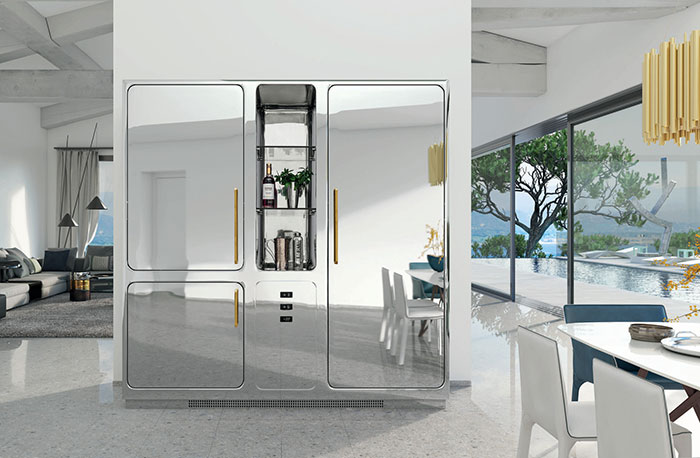 June 13, 2022
The innovative Abimis Mirror Finish Cold Control System of refrigerated tall units, made entirely in AISI 304 stainless steel and designed to bring the performance and technology of professional restaurants and catering businesses into the home, becomes bright and gleaming thanks to the new polished mirror finish. 
Built to keep what we eat every day intact and ensure greater quality of domestic life, the Cold Control System retains the clean-cut design and sinuous silhouettes of the iconic Ego kitchen, and when it features the mirror finish, it is transformed into a mesmerizing element with elegant volumes and unexpected 'games' of light.The Cold Control System, like all Abimis kitchens, has an haute-couture soul, which is why it is designed to adapt to the habits, satisfy the desires, styling, design and spatial needs of people who savor the most lived-in room of the home. 
With its Cold Control System, Abimis has come up with a top-quality product, a solution comprising refrigerated tall units, that are completely customisable in their finish and configuration, allowing the modulation of the temperature in each compartment. Their status can be monitored at any time, thereby ensuring the food stays fresh and is preserved and organized properly.
The Cold Control System is actually a 'refrigerator' divided up into several compartments, each one independent and adjustable to various temperatures. Thanks to an internal ventilation system, the temperature set remains 'even' and constant throughout the compartment.  The compartments are compatible with Gastronorm, a modular system that envisages standard dimensions for containers, trays and other instruments used in the professional restaurant and catering industry, thereby optimizing the arrangement of the various compartments and the enjoyment of all the ingredients and work tools.  
The beveled flush doors, without any sharp edges, prevent any dirt and grime encrustations and facilitate the cleaning process, guaranteeing maximum hygiene at all times, while the shelves slide out to ensure easier accessibility and surface organization.