Verona Appliances Prestige Collection 36-in. Electric Range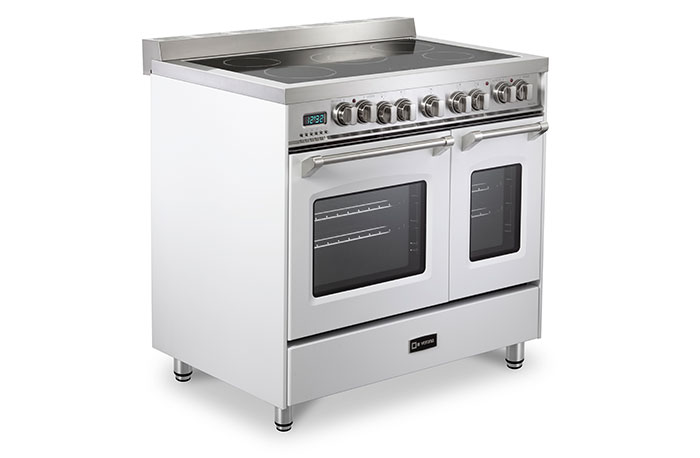 May 23, 2022
Verona Appliances, crafted in Italy but made for the U.S. market, expands upon its Prestige Collection with seven new 36-in. electric ranges. The new 36-in. electric double ovens feature an upgraded look that is only surpassed by their high-powered capabilities. The single ovens are offered in four colors — stainless steel, white, matte black and burgundy — and the double ovens are offered in three colors — stainless steel, white and matte black. 
Verona's Prestige 36-in. electric ranges feature an impeccably designed five-burner black ceramic electric cooktop that's easy-to-clean with full-sized elements to accommodate pots of any size and a multi-tasking dual element that ranges from the PerfectSimmer (700W) to a powerful InstaBoil (2100W) setting. The collection is available in a highly sought after 36-in. option that adds professional performance to any space.  
Verona's large, energy-efficient electric ovens are equipped with a spacious capacity. Even the main oven in the double oven range can easily hold a 25-pound or more turkey. The secondary oven also has ample space and can accommodate a 9-by-13-in. sheet pan or baking dish for side dishes and casseroles. Upgraded aesthetics include the Prestige collection signature beveled doors, round handles and robust knobs, creating a focal point in any kitchen environment.
The intelligently designed cooktop configuration to fit large pots on all five burners, and the oven features true European convection with seven cooking modes that are programmable with the digital clock and timer functions. A broiler pan is included, along with two heavy-duty racks in single oven and four heavy-duty racks in double oven. There is also a full-sized storage drawer. The EZ Clean porcelain oven surface and black ceramic glass cooktop are paired with a glass oven door that can be removed for cleaning by the homeowner, and the stainless-steel legs are adjustable.