Samsung Alex Proba Bespoke Refrigerator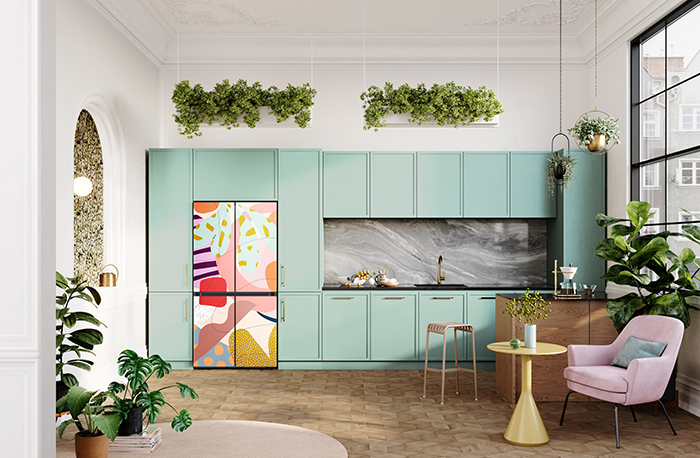 April 5, 2022
Samsung announced its collaboration with multidisciplinary artist Alex Proba to create a limited-edition Bespoke refrigerator design that's bright, colorful and inspired by nature. The custom design, which aims to bring the outdoors indoors with an abstract jungle print, gives consumers an exciting new style option for 2022 and celebrates the growing popularity of bold colors in home décor. 
Proba is the founder of StudioPROBA, a Portland and Brooklyn-based multidisciplinary design studio. In her art, Proba draws inspiration from the shapes and colors that surround us to recall positive memories and bring happiness. She works across a variety of mediums, which include illustrations and murals, and applies her unique perspective to brand, product design, and more. 
Consumers can still choose the classic Bespoke 4-Door Flex refrigerator, which will be available in an exciting style option for 2022.
Samsung's new Bespoke appliances embrace emerging home design trends that express personality and style using bold colors, new materials and artful designs. This spring, the color customizability of Bespoke will be available in Samsung's most popular French Door refrigerators, including Family Hub. Paired with the Bespoke expansion into the rest of the kitchen suite, Bespoke inspires families with new, trending color and finish options like Clementine Glass, Sunrise Yellow Glass, Morning Blue Glass and Emerald Green Steel. 
With 12 colors across two finish options for Bespoke French Door refrigerators, there are thousands of ways people can personalize a design that reflects their style – whether that's bright contrast, warm tones or a traditional look. 
The entire line of Bespoke fridges will be available in two materials, glass and steel. Glass choices include Clementine, Sunrise Yellow, Pink, Morning Blue, Charcoal, Grey and White. Steel finishes include Emerald Green, Navy, Tuscan, Matte Black and Stainless Steel. 
Bespoke fridges join a newly expanded line of Bespoke kitchen appliances, including Samsung ranges, microwaves and dishwashers in White Glass and Navy Steel. 
Bespoke French Door refrigerators will come in in three- and four-door configurations – in both full and counter-depth models, with a Family Hub option for each model. Bespoke fridges have Samsung's latest cooling and food storage innovations. The Beverage Center provides filtered water two ways: an internal dispenser or a built-in pitcher, with an option to infuse the water. The Dual Auto Ice Maker give families quick access to cold drinks with either cubed ice or smaller Ice Bites. Finally, the FlexZone keeps ingredients at the optimal temperature to ensure they stay fresh.