Forza 48-Inch Dual Fuel Range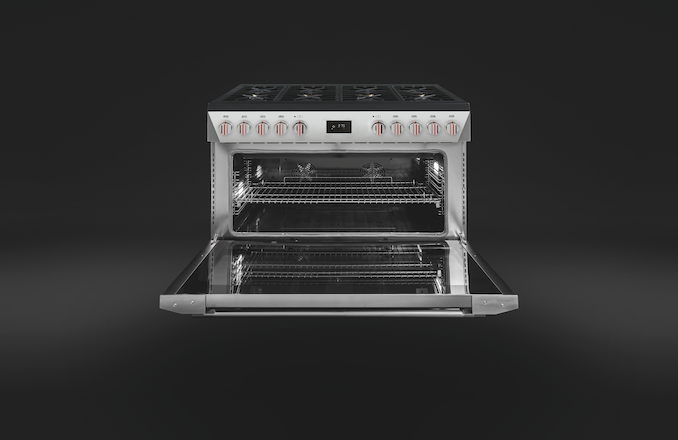 April 4, 2022
Forza, the Italian ultra-premium appliance manufacturer, introduces its new Forza 48-Inch Dual Fuel Range – the world's first dual fuel range of that size with a single oven cavity – as part of its new Dual Fuel Range product line.
"Forza is passionate about offering professional appliances that embody radical Italian design as well as ultra-premium powerful performance, so we are excited to debut our new sexy dual fuel ranges," said Marco Guerzoni, Forza director of marketing and product development.
Key features of the Forza 48-Inch Dual Fuel Range include:
The new MassimoRED™ Broiler spans the width of the oven cavity, using an electric broiler to evenly distribute heat to deliver top chef results. The 48-inch model features the widest electric broiler in the industry.
A massive 7.8-cubic-foot gross-capacity oven with six rack levels is large enough to roast two turkeys or numerous commercial trays of cookies at once.
An exclusive Infinito™ Grate System is the industry's only continuous grate system with an integrated bullnose, utilizing edge-to-edge cast iron grates. With four 12,000 Btu full brass burners in the back and four 20,000 Btu full brass burners in front, it has 128,000 Btu of total cooktop power.
Forza's MaxRotisserie™ accessory is a 33-inch motor-driven rod that can rotate a whole goat, lamb or small pig in the giant oven cavity.
The bold form and style of the Dual Fuel Ranges embody the soul of radical Italian design with the heart of an American muscle car, featuring unique angular racecar-inspired lines and offered in seven vivid colors: Audace Black, Dinamico Blue, Radicale Red, Ardente Orange, Ribelle Yellow, Valoroso White and Stainless Steel.