Miele Generation 7000 Combi-Steam Oven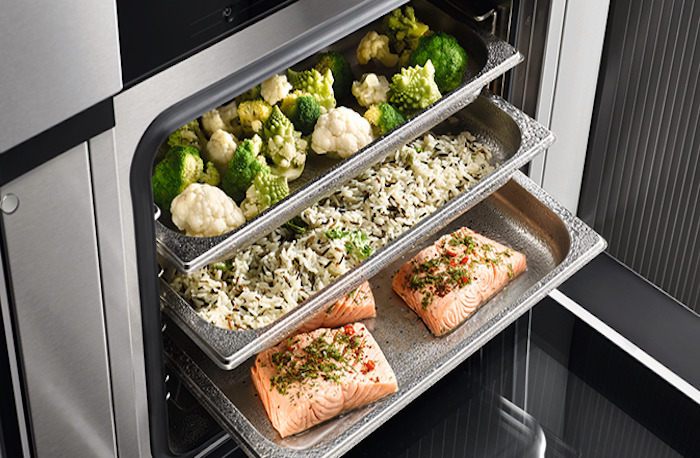 April 4, 2022
As part of the introduction of its brand new Generation 7000 line of built-in cooking appliances, Miele, the world's largest family-owned premium appliance manufacturer, announces the launch of the new design and innovation of the Combi-Steam Oven category. Miele's most powerful Combi-Steam oven to date brings steam to seal in flavor and nutrients fast and also maintains extremely uniform temperature and humidity throughout the oven. Generation 7000 cooking appliances guide users through the cooking process with operating steps that are more intuitive, smoother and more natural – leaving greater room for creativity in the kitchen.
This latest oven innovation continues to combine the power of steam and convection technology for gourmet results, with added convenience. Miele Mix & Match is a new cooking feature that allows users to cook or reheat simply by using the oven's control panel or select the exact food items from the app and send the cooking instructions directly to the oven. Place the food in the oven, hit start, and a perfectly prepared meal will be ready in minutes.
"With Miele Mix & Match, any combination of food preparation is possible. Users are able to reheat French fries and a hamburger simultaneously – achieving crispy and tender results," said Kelly Lam, Vice President of Marketing, Miele USA. "We're excited to introduce this technology to our customers' homes to give them the flexibility and convenience of restaurant-quality cooking in their own kitchens."
TwinPower Convection Fans and DualSteam Technology with a 3.3 kW external steam generator allow for powerful, precise results. It's so uniform that settings can be made in one degree increments and sous vide cooking is possible. The limitless combination mode allows users to regulate the cooking method, temperature and moisture level. By introducing moisture into the cooking process, the oven creates an environment that is ideal for both browning and searing meats, as well as baking crusty, yet moist breads. There are limitless combi-cooking automatic programs for meats, vegetables and grains included in the oven's food-driven menu cooking system, enabled by Wi-Fi through the Miele@mobile app. Users are guided by step-by-step instructions throughout the cooking process, enabling them to program the temperature, time and cooking method for both simple side dishes to gourmet meals. The connected appliances can easily be started or stopped from any smart device.
The new assortment of Combi-Steam Ovens will be available in both a 24" and 30" size, as well as a variety of design lines and interfaces to complement any kitchen: ContourLine, PureLine, VitroLine and ArtLine, a handleless collection for a sleek, unobtrusive look. With MotionReact,* the appliance responds when approached. The oven is able to anticipate the user's next moves and automatically switch on when the user approaches, activating the oven lighting or deactivating the ringtone at the end of a program. The ovens feature a motorized lift-up fascia panel with SoftClose, in addition to a hinged broiling element and LED lighting.
Pyrolytic Self-cleaning makes clean-up quick and easy. The stainless steel cavity with linen structure and interior of the oven's CleanGlass Door features a smooth, flush finish for easy cleaning as well.