LG InstaView Double Oven Range and Over-the-Range Microwave Oven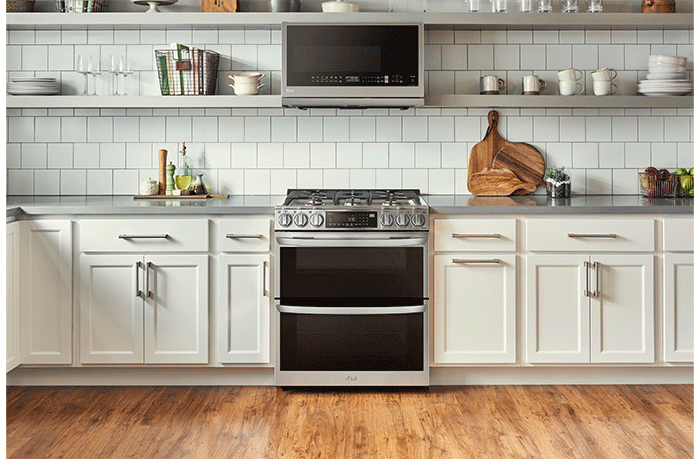 February 24, 2022
LG Electronics (LG) is making life in the kitchen easier than ever with the introduction of its latest cooking appliances, the LG InstaView Double Oven Gas Slide-in Range and Over-the-Range Microwave Oven. Featuring the brand's core cooking technologies, these new premium kitchen appliances are the first to offer seamless integration with the LG ThinQ Recipe feature that provides more than 18,000 interactive smart recipes and over 10,000 shoppable recipes for the ultimate home cooking experience.1 Between its feature-packed smart functionality, EasyClean surfaces and modern design, LG's stylish new kitchen duo offers a complete cooking solution for today's homes.
LG ThinQ Recipe Feature
The LG InstaView Slide-in ranges deliver the most when it comes to multifunctional cooking with features like ProBake Convection, Air Fry and Air Sous Vide to help home cooks everywhere elevate their cooking skills. And the latest addition to the lineup, the new Double Oven Gas Slide-in Range, offers even more flexibility and convenience with its large 6.9-cu.-ft. capacity that allows users to cook more dishes at once. The range features LG's notable InstaView technology that lets home cooks see inside the oven by simply knocking twice on the glass door, illuminating the interior without having to open the door and letting hot air escape. Leveraging LG's ProBake Convection technology, this convenient feature offers quick and thorough cooking without preheating to deliver delicious, evenly cooked meals every time. With its precise temperature and airflow control, ProBake Convection provides shorter cooking times and is also the key ingredient in the oven's Air Fry and Air Sous Vide modes. Air Fry allows cooks to create delectable, crispy fried treats using far less oil than deep frying while Air Sous Vide ensures tender, juicy dishes. And thanks to LG's UltraHeat Power Burner technology that dials up the cooking power and reduces cook times, home cooks have more flexibility with heat control for super-fast boiling and scorch-free simmering. For added convenience, LG's EasyClean technology featured on the gas range's cooktop surface and inside the oven makes cleanup a cinch so users can keep their oven looking like new.   Simply spray the oven interior with just water, press EasyClean and then in 10 minutes, quickly wipe away any leftover grime.