Hauslane Chef Series Range Hood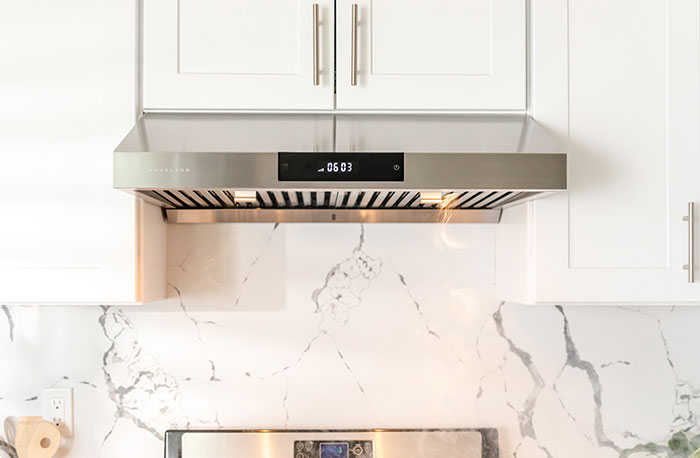 February 21, 2022
Hauslane, a direct-to-consumer supplier of premium kitchen range hoods, introduces the six-speed Chef Series UC-PS18 under-cabinet range hood. Available in 30- and 36-in. configurations, this powerful unit exemplifies the brand's appealing, people-first business model by delivering a more versatile range of settings for recipe-specific suction, and its three-way venting system is designed to fit most ducts, saving time and money on the installation process. 
The Chef Series UC-PS18's dual motor configuration produces high-power suction capable of handling multiple levels of cooking fumes, grease residue and aromas from minimal to heavy-duty. Available in stainless steel, matte black and matte white, the slender silhouette of the UC-PS18 complements a wide variety of kitchen designs. Available for immediate purchase online, delivery to most addresses in the United States and Canada takes only two business days on average.
The UC-PS18 includes a three-way venting system that fits most kitchen vent openings, resulting in a rapid installation process for simple kitchen upgrades or a full renovation. The three-way venting system includes:
A 6-in. adapter for round ductwork on top

A 3 ¼-by-10-in. adapter for rectangular ductwork on top

A 3 ¼-by-10-in. adapter for rectangular ductwork on the rear
The unit's delayed auto shut-off ensures that it.is still working to remove residual cooking fumes and aromas once the cook has left the kitchen. Changeable GU10 LED light bulbs allow homeowners to customize the color temperature using replacement bulbs found in most local hardware stores. Six speed settings to provide the perfect balance between power and noise, and a digital display and touchscreen controls for easy activation and cleaning. The Chef Series UC-PS18 has dishwasher-safe baffle filters for effortless cleaning (two filters for the 30-in. unit, three filters for the 36-in. unit) and a removable oil tray for routine dispensing of grease residue.
Find more ventilation and other kitchen appliances here.