True Residential Sage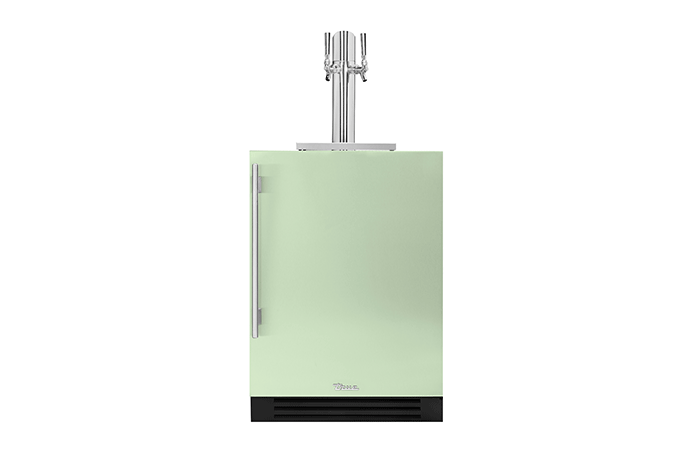 February 11, 2022
At KBIS 2022, True Residential, a luxury home refrigeration brand with commercial DNA, launched Sage, a refreshing gray/green finish that recalls the alluring pigment of the perennial sage plant. Exalted for its connection to nature, the hue is noted as a chromatic expression of wisdom, growth, and renewal—it also marks the brand's continued foray into the world of neutrals.
"We've consistently been right on trend when developing new colors—not out of a need to introduce colors that are currently in favor, but because we have a tendency to choose hues we feel can have the most lasting impact for both homeowners and designers," says Chelsea McClaran, True Residential brand manager.
The quaternary color—which renders it a semi-neutral—follows the brand's recent launch of Juniper, a deep blue/grey hue that exudes a soothing aura. Similar to the subtle yet distinct flavor the eponymous culinary herb emits, Sage can add a bit of spice to any design scheme while also serving to infuse a space with a refreshing, peaceful ambience.
Carolyn Ames Noble, Design Principal, Ames Design Collective; Chair, ASID, agrees. "True Residential's Sage finish is not only evocative of biophilic design but it also serves to stimulate healthy cooking in the kitchen. The color sage green is rooted in ecology, and the desire to germinate and preserve the growing of fresh herbs in a home garden. The duality of Sage is extraordinary—it can present as a pigmented neutral in the kitchen or as a statement hue all on its own," she says. Noble's work is rooted in research and lifestyle, where one of her specialties is CMF (color, material, finish) design development services.
The addition of Sage to the Build Your True collection of custom finishes and hardware options allows for an expanded choice of 66 unique color combinations, applicable to any of the brands full size or indoor/outdoor undercounter refrigeration and freezer units.