Samsung Bespoke French Door Refrigerator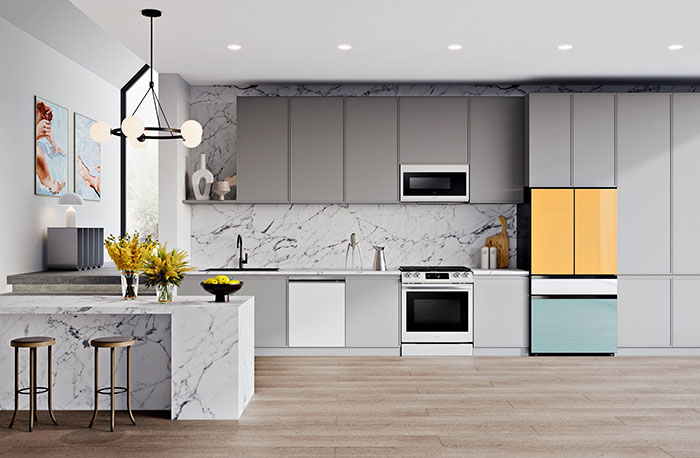 January 4, 2022
Samsung has announced its expanded U.S. Bespoke appliance lineup for 2022, including its first-ever Bespoke French Door refrigerator, to be unveiled at CES 2022. The expansion brings Bespoke to nearly every major refrigerator type sold by the brand in the United States.
Available in a range of sizes, configurations and colors, Samsung's Bespoke French Door refrigerator brings Bespoke customization and a sleek flat-front design to the U.S. consumers' most preferred refrigerator type. Expanding on the existing Bespoke refrigerator lineup, which includes the Bespoke 4-Door Flex, Bespoke 2-Door Bottom Freezer and Bespoke 1-Door Flex Column, this latest addition ensures that there is a Bespoke refrigerator option to suit every family's needs. The Bespoke French Door refrigerator will be available in three-door and four-door configurations – in both full and counter-depth models – and includes options featuring the upgraded Family Hub for 2022.
With 12 colors and two finishes – glass and steel – to choose from, the Bespoke French Door refrigerator features thousands of color combinations. In glass, new colors include white, gray, pink, charcoal, morning blue, clementine and sunrise yellow. In a steel finish, new colors include Tuscan, matte black, navy, emerald green and stainless steel.
To help families better store and preserve their meals, the Bespoke French Door refrigerator comes packed with Samsung's latest storage and cooling innovations. The Beverage Center and Dual Auto Ice Maker give users quick access to cold drinks, while the FlexZone keeps ingredients at the optimal temperature to ensure they stay fresh.
With a wide range of smart features, Family Hub brings entertainment into the kitchen and helps families stay organized and connected. In 2022, Family Hub will support Samsung TV Plus, providing free TV content and seamless continuous viewing experiences with other screens like Samsung Smart TVs and Galaxy devices.
Family Hub for 2022 will also support Alexa in select regions, meaning consumers can access various Amazon services, including Amazon Music and smart water filter reordering services, on their refrigerators. View Inside has also been upgraded with internal camera technology for utilizing information on food labels, allowing families to view fridge contents, manage expiration dates and more.