Forza Wall Ovens and Warming Drawer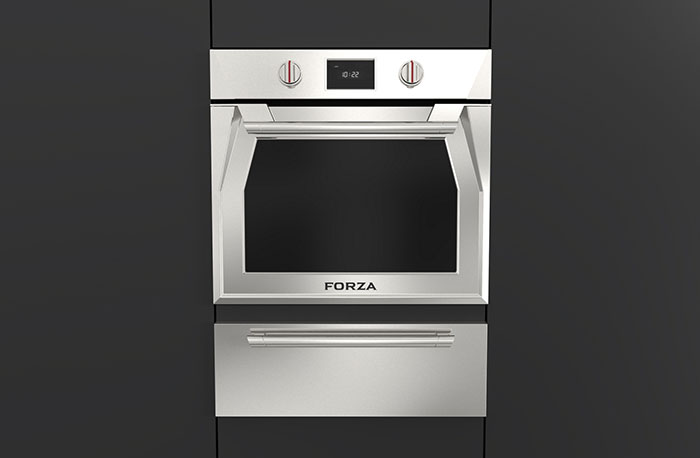 September 23, 2021
Forza is thrilled to announce that new Wall Ovens and a Warming Drawer have crossed the finish line. For the first time, the Italian manufacturer brings its uniquely shaped window with dramatically sculpted lines and edgy aesthetic to the wall oven.
Homeowners can choose between a double or single 30-in. electric wall oven set up. Each cavity features 4.4 cubic feet of capacity with two chromed racks and six rack levels. The wall ovens feature pyrolytic self cleaning with an automatic door latch, as well as 16 cooking functions, including a Classic Pizza function that is able to quickly heat to 590 degrees Fahrenheit in order to emulate the crust created by Italian artisan pizza ovens.
The oven's heating features dual true European convection, blowing heated air to ensure evenly cooked meats and perfectly baked goods. Its bold form and style embodies the soul of radical Italian design with the heart of an American muscle car, featuring angular racecar-inspired lines and a soft-close door.
Forza's new warming drawer features a convection heating system that offers even heat distribution, with a temperature range of 86 to 194 degrees Fahrenheit. The drawer features functions that include pre-heating dishes, defrosting foods and leavening for baking needs. This product also features a Slow Cooking function that can be controlled between 89 to 190 degrees Fahrenheit for additional cooking space in the kitchen.