Heatworks Tetra Countertop Dishwasher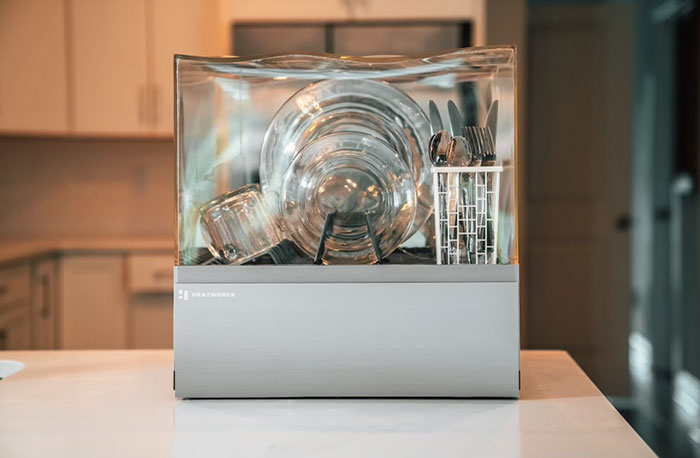 September 21, 2021
Heatworks, the U.S.-based tech firm on a mission to create products that preserve Earth's precious resources, is now accepting pre-orders for its Tetra countertop dishwasher. Tetra is a fully self-contained dishwasher – no plumbing hookup necessary – that washes three complete place settings with only 3 liters of water. Pre-ordered Tetra's will begin shipping on No Dirty Dishes Day, May 18, 2022.
No fill or drain hoses are needed. Just lift the lid, pour in three liters of water, load the unit, select a cleaning cycle and turn it on. Once the cleaning cycle is complete, remove the graywater tank in the base of the unit, unscrew its top and pour out the wash water. Because it is self-contained and only requires an electrical outlet it can be used anywhere with power. Tetra can clean up to three full place settings. It's perfect for small families, tiny houses, home bars and more.
Tetra wash cycles are tailored to clean everyday tableware, delicate wine glasses and even plastics like baby bottles. Developed in conjunction with BASF, and similar to a printer's ink cartridge, Tetra's Detergent Cartridge System will deliver custom formulas and dosing of pre-wash, enzymes and rinse aids that will ensure each load is sanitized and clean. In addition to improved cleaning performance, Tetra's cartridge system will eliminate detergent overdosing, an all-too-common money-wasting habit. The cartridge will last for 20+ loads, and with five washes remaining, Tetra's mobile app will remind users to order more cartridges.  
Heatworks' Tetra cleans 50% more dishes using 40% less water in 55% of the time than the leading dishwasher brand. Using Tetra to wash dishes for just one meal a day instead of hand washing will save more than 15,000 liters of water annually. And because it uses concentrated cleaning chemistry cartridges unlike existing detergents where as much as 80% is inert ingredients, space-hogging and environmentally harmful plastic detergent containers can be a thing of the past.