GE Profile UltraFresh System Dishwasher with Microban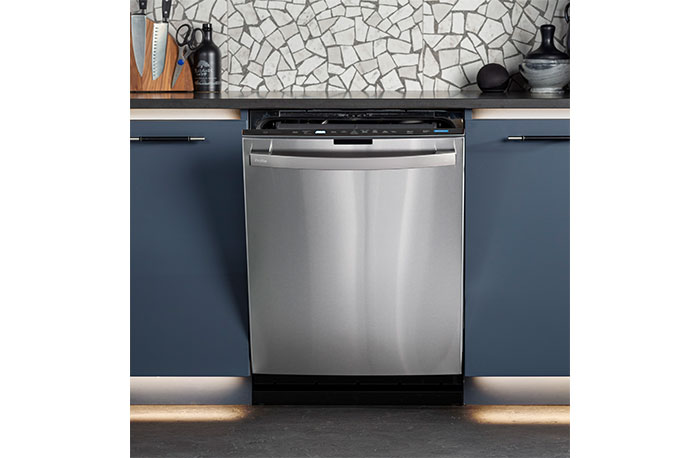 September 1, 2021
GE Appliances, a Haier company, has announced a revolutionary, new dishwasher, the GE Profile UltraFresh System Dishwasher with Microban Antimicrobial Technology that aims to reduce the growth of bacteria in and on your dishwasher. Microban Antimicrobial Technology is built into the high-contact touchpoints, including handles, control panel, rack handles, silverware cell covers and the filtration system, which helps prevent 99% of bacteria on treated surfaces for the lifetime of the dishwasher.
Additionally, this GE Profile dishwasher features a first-of-its-kind UltraFresh System for dishwashers that helps to stop the causes of odor by pulling in fresh air and water in between cycles when it detects the dishwasher needs a refresh.
According to recent research, 55% of consumers are wiping down high-touch surfaces and 37% of consumers say that they are wiping down the handle of the dishwasher more than they did before the pandemic.
On top of this, consumers report to touching their dishwashers frequently with individuals reporting:
Touching the handle of their dishwashers 16 times per week or 832 times per year
Touching the silverware basket 10 times per week or 520 times per year
Running their dishwasher five or more times per week or 260 times per year
The UltraFresh System Dishwasher's innovative technology relies on a three-pronged system of drain, dry and defend:
Drain: Between cycles, smart sensors continuously monitor when to add fresh water into the wash system to drain and renew the sump with fresh, clean water to help remove the causes of odor. In conjunction, the water filters are treated with Microban Antimicrobial Technology.
Dry: Between cycles, the dishwasher continually pulls in air from the outside, and smart sensors and a fan work together to refresh the air to help reduce the moisture inside the dishwasher, which is one of the causes of odor inside the dishwasher.
Defend: GE Appliances is the exclusive dishwasher partner of Microban International, a global leader in antimicrobial additives and odor control solutions. Microban's antimicrobial technology is built into product surfaces during the manufacturing stage to continuously help prevent the growth of stain- and odor-causing bacteria, mold and mildew. When microbes like bacteria or fungi come into contact with a Microban treated surface, their key life systems are attacked and shut down, thus helping to prevent their growth on the surface.