BlueStar Customizable Hoods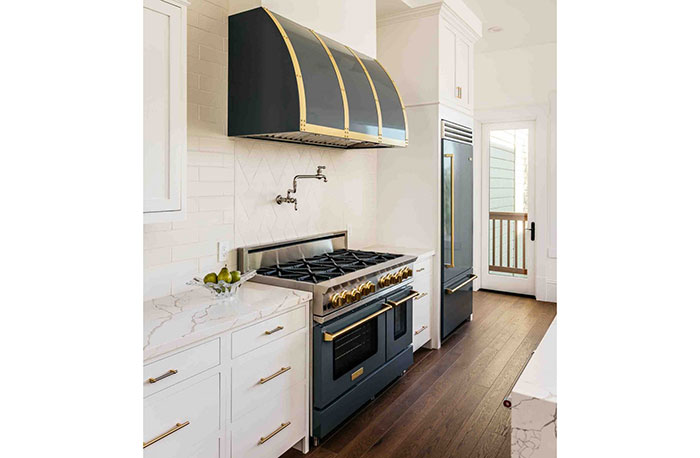 August 7, 2021
BlueStar has expanded its popular online Build Your Own BlueStar tool to incorporate 13 customizable kitchen hoods, including the recently introduced Abbaka Series, which features three new kitchen hood designs – Mesa, Atlas and Normandy.
The newly updated Build Your Own tool, which allows users to design one-of-a-kind ranges and refrigerators, now includes ventilation products for the first time. With this innovative tool, designers can explore the full BlueStar product line, creating customized products that match their cooking and design preferences. Choose from 1,000+ colors and 10 metal trims and strapping options to add unique style. With BlueStar's customization capabilities, any appliance, including kitchen hoods, can be designed-to-order in an endless combination of sizes, colors, styles and materials.
When creating a kitchen hood through the tool, designers start with the location of the hood – either wall or island – and then any of BlueStar's seven sizes. There are 13 different styles from which to choose, ranging from contemporary to traditional to classic. Final options include duct covers to help elongate the hood depending on ceiling height and blowers to ensure maximum performance.
BlueStar's latest kitchen hood line, the Abbaka series, features dynamic sculpting and intricate details, including distinctive shapes and height. Each Abbaka hood features an enhanced height – 30 inches versus the standard 18 inches – for a dramatic, sweeping profile. The three new styles being introduced are the Atlas, Mesa and Normandy kitchen hoods. All are available in stainless steel, 10 metals or thousands of colors, including custom colors. Strapping and rivets can be added for a truly custom look.
The sleek, profile design of the Mesa transforms the functionality of high-efficiency ventilation into an art form, while serving to minimize the space it fills. The Atlas adds a graceful curve to an environment defined by straight lines. Rivets of brass, copper or steel are standard as decorative elements to the hood body itself. The high style Normandy ventilation hood is a modern adaptation of a classic European design. The lower reveal can be produced in combinations of stainless, copper and brass in polished, brushed or antique finish.
The ultra-premium line features professional-level power, whisper quiet operation, intuitive controls and innovative design. All BlueStar range hoods are handcrafted in the U.S. Built to meet professional standards inside and out, BlueStar kitchen hoods combine world-class design with the latest in professional ventilation technology.