Thor Kitchen Professional Gas Range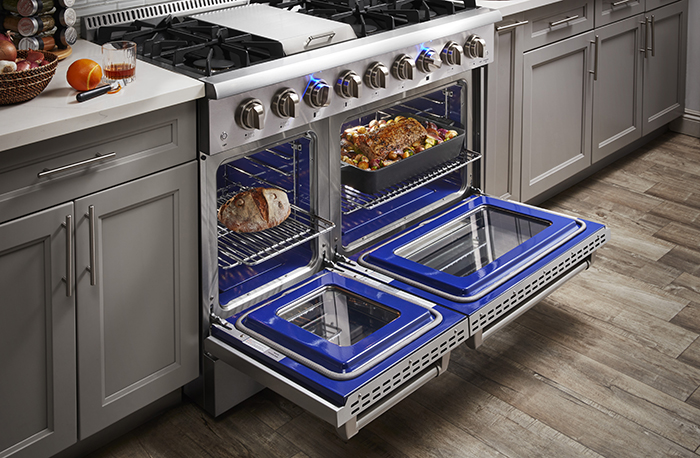 May 19, 2021
Thor Kitchen has introduced new upgrades to its series of Professional Gas Ranges, adding LuxGlide telescopic racks and brass burners to its 30-, 36- and 48-in. models. Brass burners withstand the high temperatures generated by the powerful 18,000 Btu and distribute heat more evenly than aluminum burners, while the new LuxGlide racks allow for easy handling of even the heaviest of dishes.
Key Product Features and Functions:
Brass has a high melting point and is more resistant to high temperatures, which makes brass burners ideal for gas ranges. Thor's Professional Gas Ranges offer up to 18,000 Btu, so the incorporation of brass burners provides durability and resistance to wear and tear.
Brass burners offer superior heat retention and consistent flame distribution, providing a more even cooking experience.
The added pop of gold color brings a classic design aesthetic to any kitchen space and strikes a dynamic look against the cast iron cooking grates, black porcelain spill tray and die-cast metal burner control knobs.
The LuxGlide telescopic racks use ball bearing rack guides for an effortless glide in and out of the oven.
This luxury feature allows the rack to extend fully without tipping over for smooth, easy handling of even the heaviest dishes and adjusts to fit different rack support levels.
Thor's Professional Gas Ranges are available in 30-, 36- or 48-in. models and feature an infrared gas flame broiler and a commercial convection fan.