Bosch ADA-Compliant Dishwashers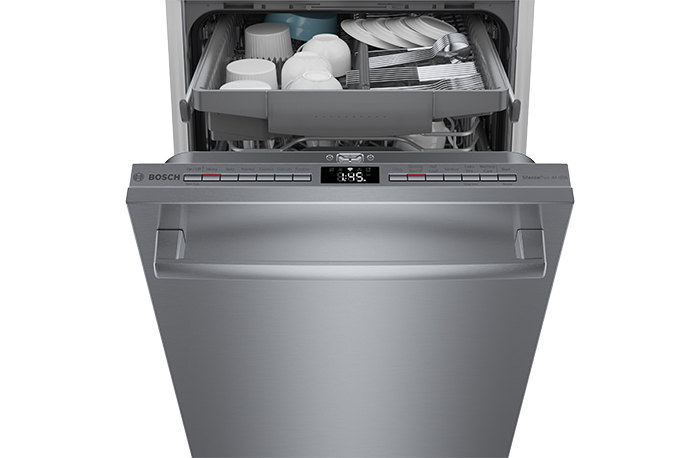 May 3, 2021
Bosch Home Appliances has expanded its dishwasher portfolio with an ADA-compliant dishwasher alongside new research in partnership with Reckitt Benckiser conducted during the COVID-19 pandemic. Amplified by more cooking, experimenting and time in the kitchen, followed by months of rigorous dishwasher use, the study found increased demand for cleaning, drying, capacity and convenience in this category as Americans seek a deeper, more hygienic clean throughout the home and kitchen.
Always keeping consumer needs at the heart of its innovations, the 2021 Bosch ADA-compliant dishwasher line aims to revitalize consumer confidence in the kitchen and simplify cleanup with its innovative drying technologies, intuitive connected solutions and quality performance features more widely available in new 18- and 24-in. ADA-compliant dishwashers.
Key features in Bosch's new 18- and 24-in. ADA-compliant dishwashers as well as existing Bosch dishwashers were developed using years of consumer insights to deliver a complete line that does the heavy lifting for the consumer—from a quality clean to a perfect dry—including:
Bosch's five-point PrecisionWash system was designed to eliminate this step for consumers, so users can simply scrape off excess food, load the dishwasher, press start and walk away with the confidence that their dishes will come out sparkling clean after every cycle.
Recognizing that dry dishes are just as important as clean dishes, Bosch CrystalDry and AutoAir take the brand's traditional drying cycles a step further using natural elements like minerals and fresh air to enhance drying results, even on plastics.
From connectivity to one of the industry's largest third rack loading capacities and more, Bosch dishwashers deliver on loading capacity, flexibility and overall convenience.
New Bosch18-in. ADA-compliant dishwashers will be available in Q1 2021 and the 24-in. models will be available in Q2 2021.