Liebherr Monolith Bottom Freezer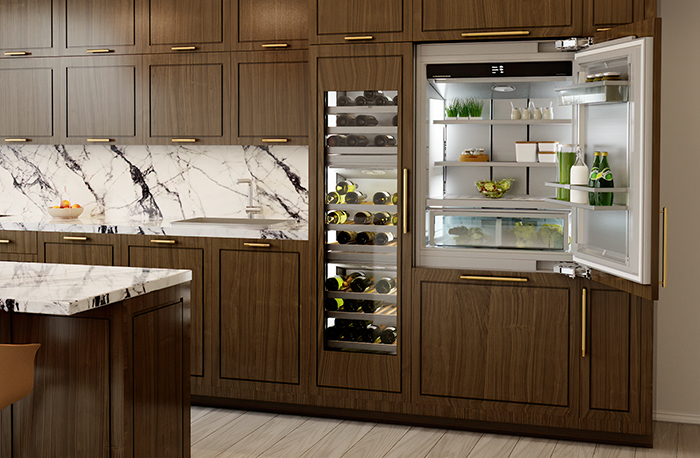 February 17, 2021
Liebherr Appliances has expanded its Monolith collection of refrigeration products. The Monolith product lineup, currently featuring column refrigeration, freezing and wine products, will now feature a 30- and 36-in. Bottom Freezer designed to enhance luxury and performance in kitchens across North America without compromising valuable space. Liebherr unveiled the new product at KBIS 2021.
Among the Monolith Bottom Freezer's signature features are:
InfinitySwipe: Monolith's intuitive electronic touch-control panel features a full-color 3.5-in. touch & swipe screen that's bright, clean, and wonderfully user-friendly.
PowerCooling: Liebherr's high-performance PowerCooling system ensures that newly stored foods are quickly cooled, while maintaining an even temperature throughout the interior. Taking this system one step further, Monolith circulates cold air behind the door, meaning that items stored in the door stay just as cold as everything else inside.
InfinityLight: Monolith's seamlessly integrated LED side-wall lighting casts a beautiful and even glow that can be adjusted according to taste, including a soft brightening effect upon opening the doors. InfinityLight doesn't just add drama and flair, it also emits less heat, preserving food quality
BioFresh-Plus: The BioFresh-Plus technology stores fish and seafood at the perfect temperature, like at the fish market. Featuring separate electronic controls, BioFreshPlus offers precise temperature regulation that can easily separate the drawer into two compartments with independent temperatures for everyday use.
SmartDevice: Monolith comes with a SmartDeviceBox which can be controlled via a smartphone or tablet, activating settings and features while on the go.
Ice Maker & FrostSafe Drawer: Monolith's automatic IceMaker produces 3.5 pounds of filtered ice in 24 hours, and activating the SuperFrost function can create an even greater quantity. Additionally, Monolith's FrostSafe sealed removable freezer drawer protects frozen food from unwanted loss of chilled air, even when the door is opened.
The Monolith Bottom Freezer will be available in showrooms by Summer 2021. The refrigerator comes in 30- and 36-in. options and is customizable to fit the aesthetic of any kitchen.  A French Door configuration will be available in December 2021.