Aran Cucine Oasi One-Wall Kitchen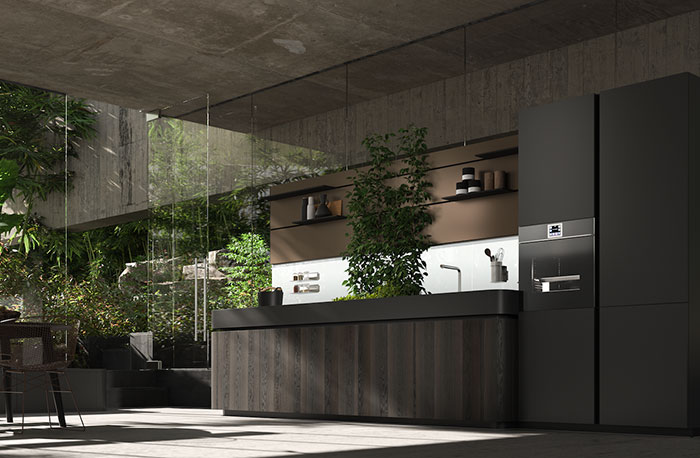 May 6, 2022
Aran Cucine introduces Oasi as a one-wall kitchen that maintains its unique natural element. Following the principle of circularity, around which the free-standing square kitchen and island version rotates and including the main phases of storage, preparation, consumption and recycling, Oasi in the one-wall kitchen version offers an innovative and functional solution for kitchen furnishing.
Suitable for small living areas, the new Oasi features a wall unit with simple lines, highlighted by smooth doors made of fossil or oxidized wood. Its structure facilitates daily activities through a division of internal space organized by well divided storage compartments and large shelving system for pantry and appliances.
A key role in the field of sustainability, of which the entire Oasi project is a symbol, is the possibility of cultivating trees and ornamental or aromatic plants, thanks to the indirect sunlight. The latter, filtering between branches and leaves, helps to create an internal microclimate and reflect on the horizontal surfaces.
The one-wall Oasi kitchen is symbolic of the so-called slow life and becomes the perfect frame of a story made of intimate relationships that are born and grow in this new place of living. The relationship between man and nature finds its confirmation and its continuation — now you really can slow down time to live better, in harmony with oneself and with others in a convivial and shared space like that of the kitchen.
This new version of Oasi will be officially presented at the Aran Cucine stand during Salone del Mobile 2022, where you can admire some of the possible customizations thanks to the wide range of materials, colors, finishes and additional components.