Hardware Resources Blind Corner Pullout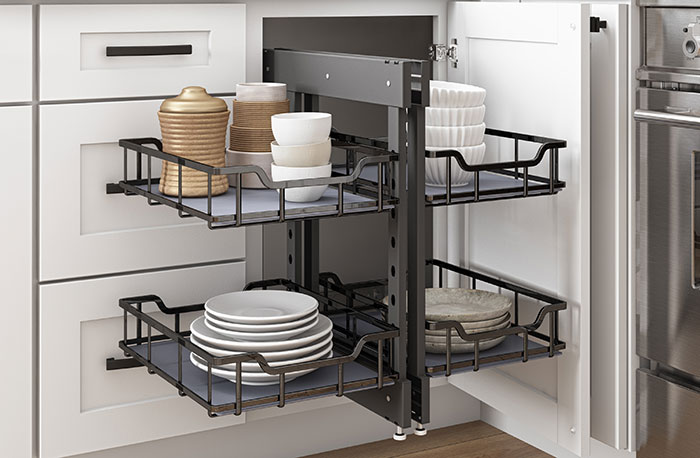 August 11, 2021
Hardware Resources is pleased to announce the Storage with Style line of cabinet pullouts now features a Blind Corner Pullout. This robust pullout allows easier access into the depths of hard-to-reach corners in kitchen cabinets, all while featuring the signature Storage with Style curved flat wire detailing. The cohesive look of Storage with Style organizers brings elegance and style to the kitchen.
The Storage with Style Blind Corner Pullout was developed to give designers flexibility. It can be installed in either left or right-hand blind corners and features four adjustable-height baskets that easily pull and provide for full access. It is available in both standard door/drawer and full-height door sizes for blind corner cabinets as well as two width options for 15- and 18-in. openings. For the full-height option, an additional pair of baskets can be added to make a three-tier organizer.
Easy to install and built to last, the Hardware Resources' Storage with Style Blind Corner Pullout features heavy-duty, soft-close slides that are rated for up to 150 pounds and allow for smooth movement in and out of the cabinet. The heavy-duty frame construction ensures the organizer is stable when in motion. The acrylic liners add stability to the baskets and are dishwasher safe.