Aran Cucine Magistra Cabinetry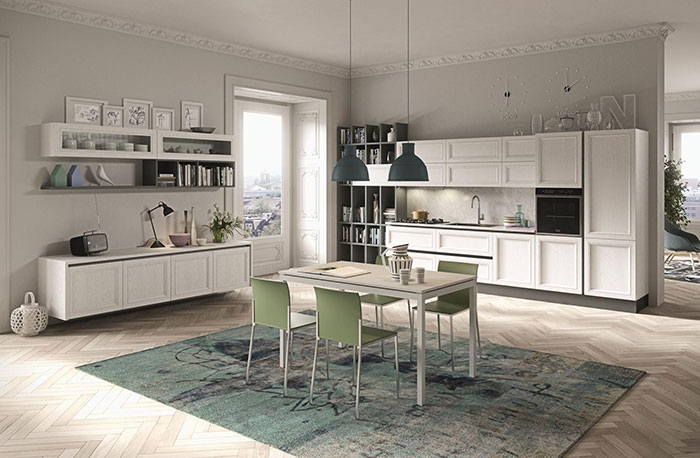 July 15, 2021
With Magistra, Aran Cucine shows that solid wood and a more traditional door processing can fit contemporary styles, thus offering a high quality and stylistically appealing solution.
Mixing different modules and elements helps designers create many and always customizable layouts. The common thread of each configuration is the door with solid wood frame and inserts, which recalls the typical style of old-time but never old-fashioned kitchens. And that's where the wide selection of finishes offered by Aran Cucine comes in: the white lacquered ash and the introduction of open units turn a potentially classic kitchen into an original expression of contemporary style.
The result is a linear composition, which runs along a wall, showing you all that is necessary and functional: tall units with appliances, cooking and washing areas, base cabinets, wall cabinets and finally a bookcase with open units, perfect to customize the kitchen. Its color, combined with its gray toe kicks, gives a further contemporary touch. Moreover, perfectly coordinated living cabinets increase the storage space. Hanging base cabinets, shelves and open units, and then wall cabinets with glass door complete the furniture of a stylistically coherent environment.