Showplace Cabinetry Blind Magic Corner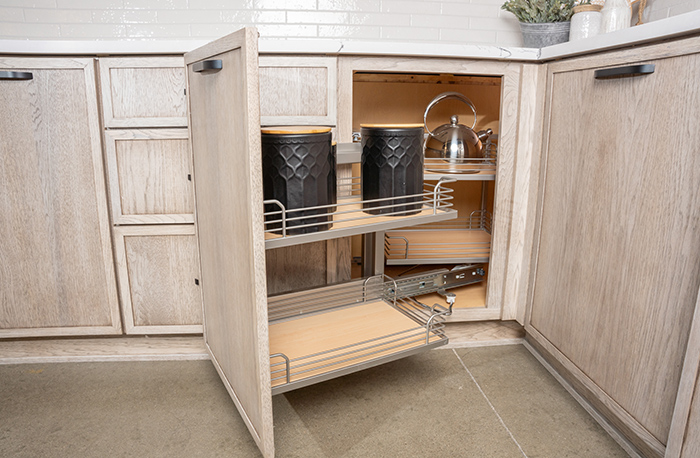 June 28, 2021
Showplace Cabinetry has introduced new products to enhance the options available to consumers and the finishing touches cabinet designers can use to customize their Showplace kitchens and baths.
With a powder-coated metal frame and a 90-pound load capacity, the Showplace Top Mount Waste Basket is a great new option in ShowplaceEVO. The unit is 34-1/2 inches high and 24 inches deep, with a full-extension, soft-close action and a built-in metal lid above the waste basket unit. This capacious new waste storage accessory features double 35-quart waste baskets and double 8-quart compost containers.
Showplace inset and overlay wall and base cabinets are now available with two convenient, center-closing independent doors. Newly introduced by Showplace are independent door Square Corner Wall cabinets in heights from 30 to 48 inches. Base cabinets are also available with independent doors, including a Square Corner Base with full shelf, Square Super Susan, Square Super Susan with wood trays and the Deluxe Square Super Susan with wood trays.
Moldings add dimension and a refined look to cabinetry, and Showplace has introduced two new choices available for all cabinet lines. Designers can choose 96-in. moldings in the 1-in. Large Flush Molding and the 6-in. Sub-Rail Molding. The Large Flush Molding mounts on the bottom of wall cabinets to add extra dimension and effectively hide undermount lighting. The Sub-Rail Molding is a versatile addition to cabinetry for any room, adding height when building a dramatic wall cabinet treatment that takes molding to the ceiling or as a finishing touch to the bottom of base cabinets.
Showplace has also recently added an exciting new Blind Magic Corner base cabinet to the company's overlay, inset, and frameless lines, providing a storage option for corner design challenges. This innovative storage solution provides single-action pull-out storage to easily access the entire space of this blind corner cabinet.