Ferguson Shares 10 New Design Trends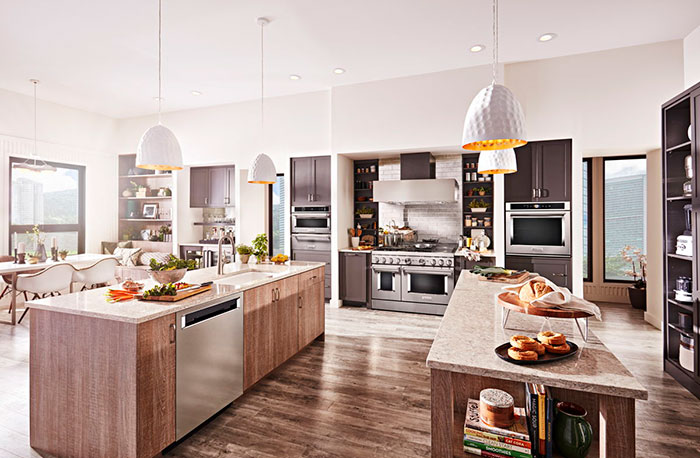 January 12, 2022
The product experts at Ferguson Bath, Kitchen & Lighting Gallery present Trends & Influences VII, featuring design trends, innovations in plumbing, lighting and appliances. The lookbook was developed with thoughtful insight from industry influencers, style icons and leading market research. The guide from Ferguson features the following trends:
Healthy Haven
Having a healthy home is on everyone's mind these days, and for good reason. Thankfully, there are many ways to create a cleaner, more hygienic home. Implementing innovative technologies can help you clean faster, cook smarter and rest easier.
Ultrafunctional
This is living, elevated. If versatility is the name of the game, implementing multifunctional products like these will give you the square footage you need to win. Meaning, your kitchen becomes more than a room to cook, your mudroom isn't just a catch-all for dirty clothes, and your den becomes a work/study space.
Down to Earth
Incorporating texture is a perfect way to design an authentic, earthy environment. For the organic modern trend, consider using natural materials, neutral colors, flowing curves and raw aesthetics to create a more serene, content home.
Extraordinary Spaces: Spa Bathrooms 
Elements of comfort and sophistication make any space inviting for those who enjoy simple yet superior decor. Design trends featuring specialized products create a self-care oasis you can return to time and time again.
Extraordinary Spaces: Patio Perfect
Outdoor living isn't limited to backyard summer barbecues. In fact, investing in a functional, inviting outdoor area can provide year-round returns. With the plethora of lighting, cooking, heating, seating and even food and beverage cooling options, there is absolutely every reason to consider your outdoor premises as additional living space.
Grand Nostalgia
The Grandmillenial trend is a recapturing of multiple styles. An appreciation for a lost, perhaps misunderstood aesthetic. Above all, it's a nostalgia for tradition and a simpler time, and an effort to keep that alive.
Haiku Harmony
Like the haiku, this trend finds beauty in its perfect balance. The minimalist nature of Japandi is an elegant fusion of the modern elements of Scandinavian style and the ancient elegance of Japanese decor. Minimalism is at the core of both of these, emphasizing the importance of function in a space. It has a chic simplicity in its clean lines and craftsmanship.
Everlasting Elegance
Like the little black dress with pearls and white linen in the summer, there are some styles that never go out of fashion. These products and the materials they're made of embody that timeless, sophisticated appeal.
Extraordinary Spaces: Haute Kitchens
Design trends put luxurious living within reach thanks to a curated selection of the industry's latest and greatest contributions to the kitchen. Bring the best home and unleash your inner at-home chef.
Inclusive Interiors
If you're building your forever home, it's important to consider life's basic routines, how they change over time, and how people with differing accessibility needs may interact with these spaces. Universal design appeals to and addresses everyone in an elegant, inclusive manner.