Kohler Taps into New Design Trends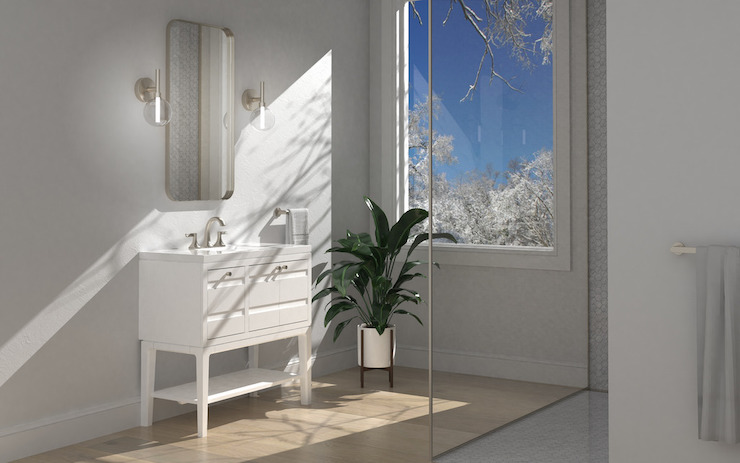 November 15, 2021
Last week, Kohler conducted a two-day online event that brought together leading design thinkers, wellness experts and kitchen and bath product developers to explore what's ahead in residential design trends. From smart home technology to becoming a positive force for change, "Kohler Living" recognized the interconnections among sustainability, community and creativity.
One session, "Make Space for Wellbeing," featured Betsy Froelich, Kohler's director of marketing – hospitality and real estate; Veronica Schreibeis Smith of Vera Iconica Architecture; Sequoyah Hunter-Cuyjet of Determined by Design; and Erin Lilly, manager of Kohler's Design Studios. They discussed ideas for creating spaces that support peoples' physical, mental and emotional wellbeing. Here are some top-line takeaways from their conversation:
– Because we are demanding more from our homes these days, we need to simplify our lives – not add to them.
– As our awareness of wellbeing increases, we can reframe our assumptions about how we use spaces in the home. Wellbeing is more complex than a single thing; the spaces we travel through can affect our mental and physical states.
– Improving our spaces can improve our cognitive performance.
– Design is more than a matter of taste – it is a matter of self.
– After nearly two years of living onscreen, we've become sensory deprived. This will shape the design of the future; touch and texture will be important.
– Our health and happiness are vital. Couple that truth with our biggest investment: the home. It's the place where we nurture the relationships with family and friends. How we care for our home and people are critically linked.
– There are three design elements for wellbeing in the home: good sunlight, adequate airflow and engaging the senses.
– People can experience smells, noise, lighting, color and temperature conditions in very different ways. Designing from a point of view that recognizes neurodiverse reactions will increase accessibility and promote wellness for all.
– Throw away the design rules and find out what sparks you. It's easy to get in the Instagram mindset, when in fact introducing personal preferences will pay off more than crowd-sourced design.
All 17 sessions of "Kohler Living" are now available for on-demand viewing.