Hardware Resources Water Bottle and Cookware Organizers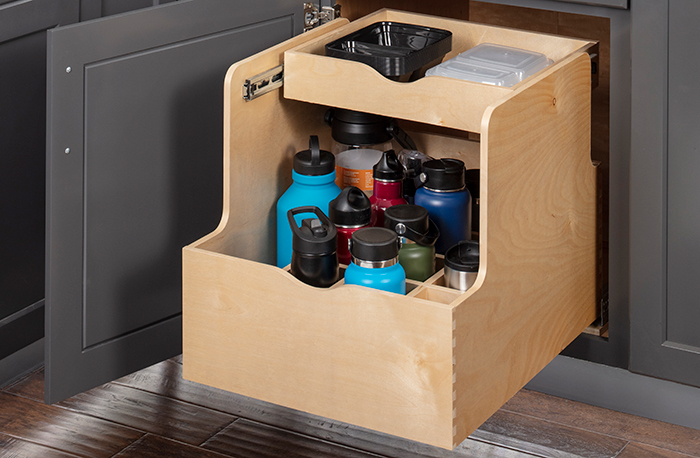 May 24, 2023
Hardware Resources' new Water Bottle and Cookware Rollout organizers simplify managing pots and pans and water bottles of various sizes. The Bottle Rollout features a double-drawer configuration that allows the top drawer to be pushed back and out of the way for easy access to the bottom drawer. The innovative reversible bottle grid system allows for left-hand or right-hand configuration. The Cookware Rollout features wooden dividers and is available as a single- or double-drawer configuration that provides flexibility to manage a wide range of cooking and baking products.
The single- and double-drawer Cookware Rollout is available in three sizes — 15, 21 and 27 inches to fit 18-, 24- and 30-in. cabinets. It features five to nine movable dividers depending on size using a pin and groove system. The double drawer Bottle Rollout features a 15-bottle grid that accommodates various sizes of bottles up to 4 by 4 inches. The bottle grid is reversible and can be flipped to either side of the 21- and 27-in. units for maximum flexibility. The 21- and 27-in. bottle units also feature a partially divided drawer (one divider on the 21 inch and two dividers on the 27 inch) to accommodate long or oversized items in addition to the 15-bottle grid.
Assembled in the U.S., these new rollouts from Hardware Resources feature soft-close undermount slides mounted on finger-jointed dovetail birch drawer boxes and are available in three convenient sizes to fit standard cabinet openings.