KBIS 2021 DesignBites Recap from a DesignHound
February 19, 2021
Last week was National Kitchen & Bath Week, and there's no better celebration of these two important areas of the home than the annual Kitchen and Bath Industry Show, affectionately known as KBIS.
This year's KBIS looked different than in past years! Due to the pandemic, the event went completely virtual. This change in format did not come without its challenges, however, but as an attendee, I found it so beneficial to be able to see so many presentations from different industry leaders – something I've never had much time to do while I was physically at the event.
One of the presentations I was able to see was the sixth-annual DesignBites – kind of like the KBIS version of speed-dating meets home design, where leading manufacturers present their most innovative new product introductions for the year. Hosted by HGTV personality Darren Keefe, each participating brand was given three minutes to introduce a new product or concept, followed by a brief Q&A. At the conclusion of the event, a panel of judges selected one exhibitor as the "Brand with the Biggest Bite!"
The panel of judges included industry leaders, members of the press and a group of hand-selected design influencers from all around the country known as DesignHounds. I'm honored to say that I was a part of this distinguished group!
I'll share with you the eight new product introductions that were pitch during this really fun and interactive event, and I'll even tell you who won!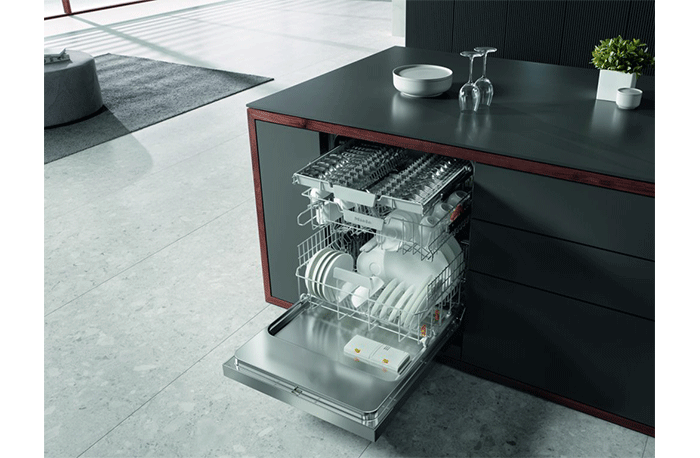 Miele's G5000 Series Dishwasher
The first company to pitch was Miele, and they presented their new G5000 Series Dishwasher – the new generation of dishwashers that includes a lot of the features of their premier G7000 series but at a more affordable, entry-level price point.
This dishwasher features the same speed and efficiency of the "quick intense wash" setting that Miele's dishwashers are known for. Additional features include a run time of less than one hour and an "auto open dry" feature that allows all of your glassware stemware and dishes to dry completely. The cutlery basket is truly flexible as it can convert into a full-fledged third tier for greater storage capacity.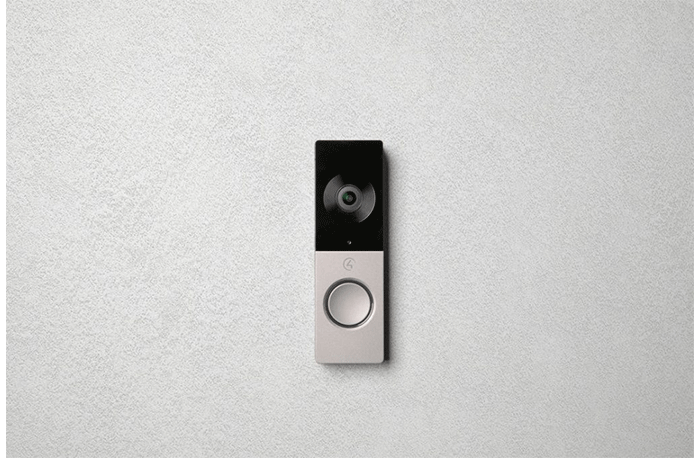 Control4 Chime Video Doorbell
The next company to present its new intro was Control4, which develops products for real-life smart homes. Control4 seamlessly connects all of your remote operating systems and smart devices.
Their new introduction this year is the Chime Video Doorbell, which is the first engineered doorbell to work with other technologies in your home. For example, if you wanted to remotely answer the door and then unlock the garage door so that someone could place a package inside, this system allows you to do all of that inside of one app. No longer do you have to go from your door ring bell operating system to another app on your phone that would control the doors, etc.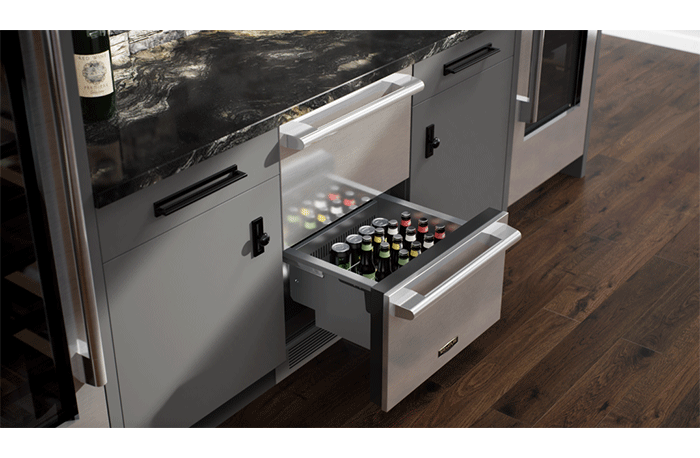 Signature Kitchen Suite 24-Inch Undercounter Drawer Refrigerator
The next company to present at the DesignBites event was Signature Kitchen Suite (SKS). This company came before us to present an innovative and groundbreaking new product that I'm sure will be used by lots of kitchen designers in the coming year.
Meet the new "convertible" 24-in. Undercounter Drawer Refrigerator. Now, what does convertible mean? Each drawer in this unit gives the homeowner the option to control the temperature and therefore the function of that drawer.
Need a refrigerator in your game room? No problem! Simply set the temperature at your desired refrigeration level and you're done! Need a refrigerator and freezer combo for your pantry? Simply set the temperature of the top unit at the appropriate refrigeration temperature and adjust the temperature for the bottom unit for freezing temperatures.
The idea for this flexibility came from the company's understanding that sometimes the homeowner does not really know the end-use of a space until they live in it. With this unit, the client really has an opportunity to grow into their space, and I also love the fact that the flexibility of controlling the temperatures for the unit gives me as a designer much more opportunities to incorporate this type of appliance in other non-traditional spaces!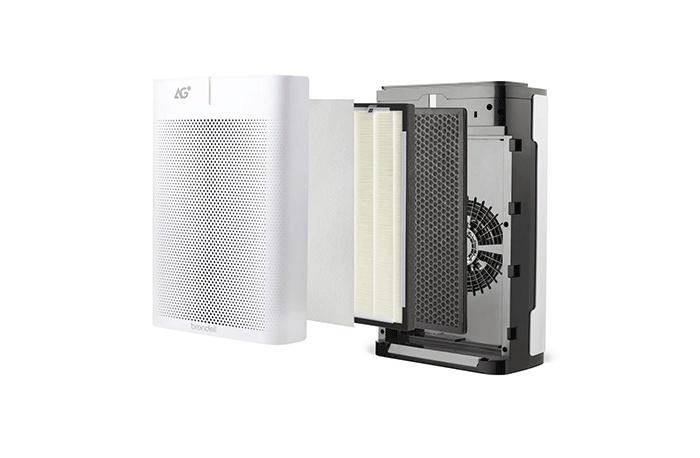 Brondell Inc. Pro Sanitizing Air Purifier
Brondell, Inc. is an innovative air purification company, and their new introduction, which is IMMENSELY relevant this year, is the Pro Sanitizing Air Purifier.
This air purification system has been proven to destroy 99.9% of the Covid-19 virus. It is the only air purification system to have this distinction.
The system works off of AG+ Technology and uses three different filters, UV disinfection and plasma sanitation. Each unit has a suggested coverage area of 538 square feet, which is the equivalent of a medium-sized room. The unit is portable, and if you have larger space you can use multiple units in that room to create the optimal purification setting.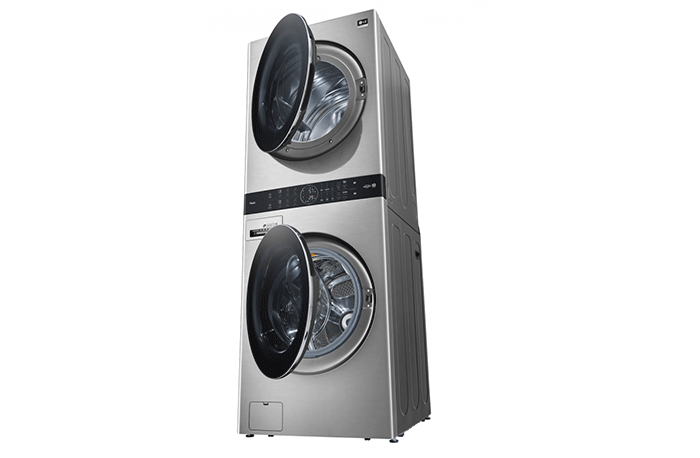 LG Electronics Studio Washtower
Our next DesignBites presentation actually comes from the winner of this year's event. LG Electronics is a company known to be at the forefront of technology as it relates to the home. This year they're introducing the LG Studio Washtower, which is the first single-unit wash tower of its kind.
The tower takes up half the space of a traditional washer and dryer side-by-side set-up, and it allows the designer to create a "built-in" effect so that the integration of this appliance is seamless. The washer sits on the bottom with the dryer on top, and the control panel is at the center of the unit, making it easy to reach the controls for both without the need for a step stool!
The biggest benefit of this washer/dryer combo is not just the fact that it takes up less square footage, but it also does not sacrifice capacity. Unlike other stackable washer and dryer towers that tend to be smaller in scale and therefore have a smaller wash and dry capacity, this tower accommodates a full-size wash and dry load and even has the capacity to wash and dry a king-size comforter!
On the tech side, this unit automatically detects the fabric, texture and size of the items in the wash cycle so that it can recommend the best setting. It's easy to see why the LG Studio Washtower was the winner this year, but there's still much more goodness to come!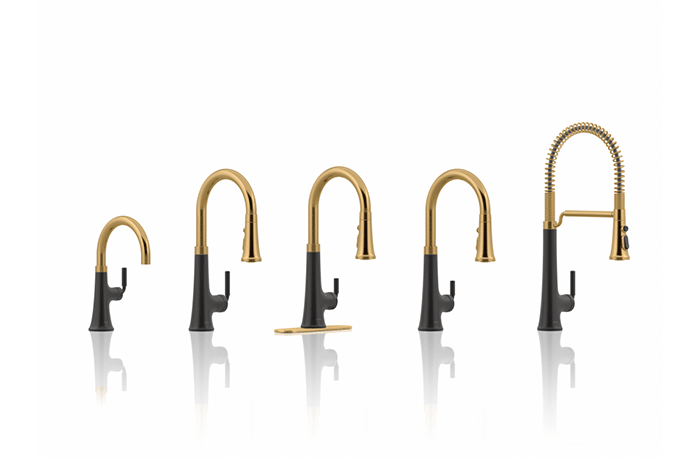 Kohler Tone Kitchen Faucet Collection
The next new product introduction is Kohler's Tone Kitchen Faucet, which features clean lines, a soft teardrop base, and it comes in five different configurations. Each configuration includes touchless technology, voice control technology and a patented high-pressure sweep spray.
Aside from Kohler's standard finish options, this collection also comes in two dual-tone finish options: matte black and brass or matte black and chrome. The color, style and features of this faucet collection are absolutely on-trend for where we're seeing kitchen design head.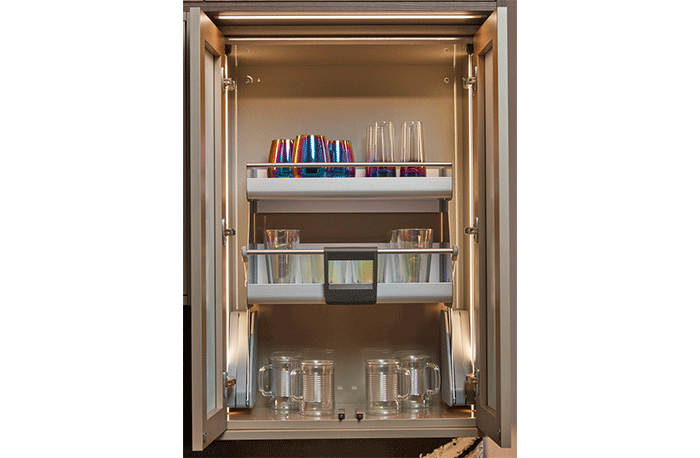 Wellborn Cabinets Reflective Modern
Wellborn Cabinet has been providing cabinet and storage solutions for decades. This year, they're introducing their "Reflective Modern" collection featuring new colorways, smart design options and integrations like touch-to-open door fronts, integrated lighting and inner-cabinet accessories.
Monogram 48-In. Pro Range
The final company to present at DesignBites was Monogram, which introduced a new 48-in. Pro Range that has been over three years in the making! The unit features soft-close doors, smooth glide racks, and the brass on the knobs and burners is solid brass!
This range has a high enough BTU to be suitable for a commercial kitchen setting, and what makes it so Innovative is that once you set the temperature for cooking, you can maintain that precise temperature throughout the entire cooking experience!
The bullnose cast lighting on the knobs is customizable, meaning the homeowner can choose the color and intensity of the light, and the unit is Wi-Fi and Bluetooth capable, which means that any future updates can be immediately downloaded and incorporated into the unit. That means this range can technically be an even BETTER range five years from the day you buy it!
Well, there you have it! Eight amazing new products from eight Innovative kitchen- and bath-related companies! The winner of this year's event was the LG Washtower, but I think all these products are winners in their own way.
I can't imagine the tasks that they have before them to make sure they're always tuned in to the pulse of what consumers want and need. I'll be sharing more with you about these products, and my hope is that I'll get to integrate them into some of our design projects coming up soon!