High Point Market Authority Announces 2021 Style Spotters Team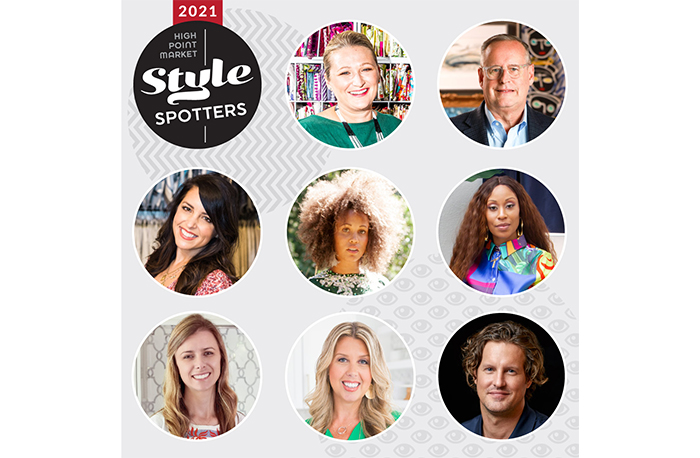 January 8, 2021
The High Point Market Authority (HPMA) announces the 2021 Style Spotters team, as follows –
Sara Malek Barney (Texas), BANDD DESIGN
Lauren Clement (N.C.), Lauren Nicole Designs
Heather French (N.M.), French & French Interiors
Breegan Jane (Calif.), Breegan Jane
Molly Kay Johns (Va.), MK Interiors
Steve McKenzie (Ga.), McKenzie Design LLC
Keia McSwain (Colo.), Kimberly + Cameron Interiors
Justin Shaulis (N.Y.), Justin Shaulis, Inc.
This 2021 Style Spotters team takes the reins this month and will hold the title throughout the calendar year, applying their trend-tracking abilities to both 2021 Markets – June 5-9 and Oct. 16-20.
Style Spotters are charged with scouring the Market to find their favorite products and top trends, leaving behind a card on each item they "spot." These finds are then posted to High Point Market Pinterest boards and contribute to the two Style Reports (Summer/Fall and Winter/Spring) that the HPMA produces.
Beyond product spotting, the team will also share product insights during spring and fall Style Spotters LIVE! events and will host showrooms tours of favorite stops, either virtually or in person as safety measures allow. Prior to each Market, they will additionally share their top product predictions via various digital and social channels.
Two mentors, known as Style Spotters Advisors, will provide guidance to the team, moderate the panel discussion during both Style Spotters LIVE! events and write the introduction for each Style Report. Style Spotters alumni Shay Geyer of IBB Design Fine Furnishings and Gary Inman of Gary Inman Interior Design return for their third year in this role to guide the 2021 team.
The award-winning Style Spotters program celebrates its 10th anniversary this year, having launched in 2011 as a platform for home fashion trendsetters to showcase their favorite products and top trends from High Point Market exhibitors on Pinterest. The HPMA put the 2021 team together by using a combination of self-identified and well-known candidates, with an impartial vetting and selection committee, and sought a diverse and geographically balanced group.
"This year marks a decade of diverse insights and forward-focused thought leadership on developing product trends impacting the home furnishings industry," said Tom Conley, president and CEO of the High Point Market Authority. "We are thrilled to welcome these eight to a distinguished list of Style Spotters and look forward to sharing their unique styles and visions through this program.
"Style Spotters is one of our premier programs, adding great value for our buyers, media attendees and exhibitors. The team's insights and input is a widely-used resource for both our attendees and the industry as a whole."