Sherwin-Williams 2021 Color of the Year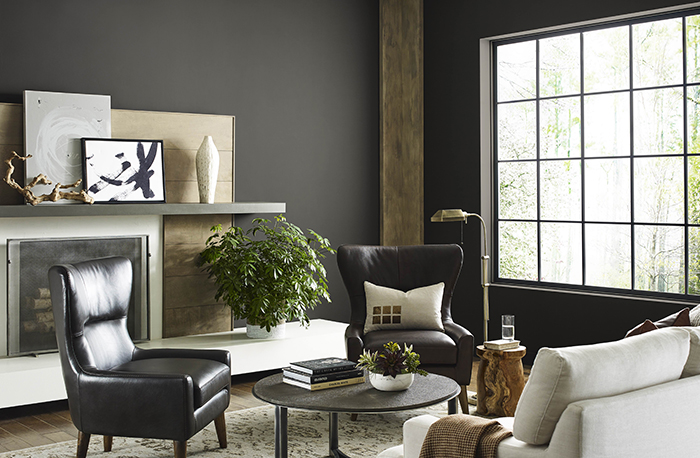 September 22, 2020
Sherwin-Williams announces its 2021 Color of the Year: Urbane Bronze SW 7048. A warm, sophisticated bronze, the color inspires all of us to find sanctuary in any space. Urbane Bronze is a rich anchor that grounds the mind in calm and stability with its ties to the natural world.
"The home is now the ultimate retreat from the world, and color is an easy and effective way to create a personal haven," said Sue Wadden, director of color marketing at Sherwin-Williams. "Urbane Bronze encourages you to create a sanctuary space for mindful reflection and renewal."
The "stay at home" mantra has directed where we go and what we do in 2020, but it will also influence interior design trends for 2021 and beyond. The color is part of the Sanctuary palette in SherwinWilliams 2021 Colormix Forecast, which predicts a need for balance in design for the year ahead. The new decade ushered in a return to rich, bold colors, stepping away from the cool neutrals of the 2010s in an effort to bring more personality into design.
"Urbane Bronze is a comforting color, drawing from nature for a feeling of relaxation and serenity," explained Wadden. "There's also reassurance in its sentimentality, with nostalgic ties to the design of the '70s and '90s, but with gray undertones that give it a distinctly modern twist."
Bold and understated at the same time, Urbane Bronze is the new neutral that can be used anywhere in the home, inside or out. Whether used as a primary or accent color, Urbane Bronze has an anchoring quality that conveys a sense of comfort and sanctuary in bedrooms, living rooms and dens, or calm concentration in home offices.
"Complement the simplicity of Urbane Bronze with natural materials—like wood finishes, organic stone accents or woven textiles—and a variety of mixed metals to create a serene space grounded in nature," recommended Wadden.
For an updated take on minimalism, pair Urbane Bronze with other warm neutrals, including elegant bone whites like Modern Gray SW 7632. To bring in more color and a hint of the bold pairings of the '70s, add a modern green like Messenger Bag SW 7740. A monochromatic look with Urbane Bronze on all four walls and trim creates a soothing site for working from home.
Wadden, as director of color marketing, leads the Sherwin-Williams global color and design team to research and identify key trends that influence the way we interact with color. From those findings, the team turns emerging themes into the annual Colormix Forecast and zeroes in on a Color of the Year. The 2021 selection, Urbane Bronze SW 7048, is the 11th official Color of the Year.
Explore the Color of the Year with the ColorSnap Visualizer app, a tool designed to help consumers and professionals make confident and smart paint color selections. Download the app to try out Sherwin-Williams 1,700 hues in your own space in real time with the app's Instant Paint augmented reality tool. Sampling colors is now more convenient than ever with free color chip ordering and delivery at swcolorchips.com.
Urbane Bronze is available now to order online for pick-up at Sherwin-Williams stores nationwide. Learn more about the Color of the Year and other color selection resources here.