Duravit Launches Music Playlist for Designers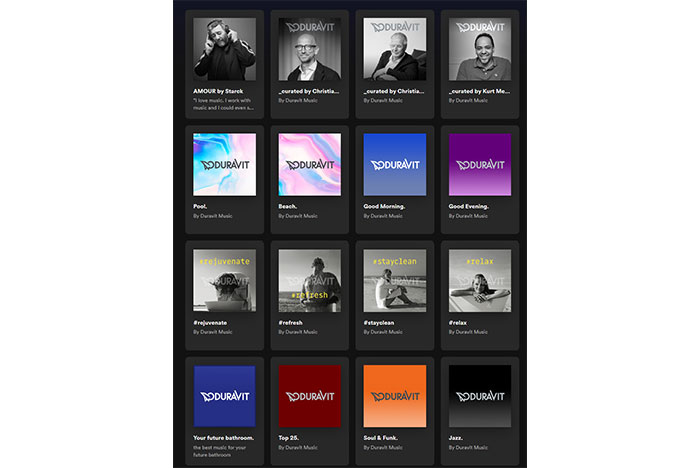 May 18, 2020
Have you ever wondered what kind of music a designer dances to, sings along to and plays while working? Duravit asked a few of their longstanding design partners, Philippe Starck, Christian Sieger, Kurt Merki Jr. and Christian Werner, to curate a custom playlist for Duravit's creative initiative to share inspiration through music on the brand's newly launched Spotify Account: Duravit Music. 
Born out of an idea to offer positivity and inspiration during this time, Duravit Music will live beyond COVID-19. For many, music is a connector, a creative outlet and source of comfort. Does good music inspire good design? Does music connect us when we are apart? To both questions, Duravit says yes! The playlists available on Duravit Music offer a wide variety of tunes, ballads and scores. For the curated designer playlists, the musical collections are just as varied and exciting as the designers who built them. In addition to the four designer playlists, Duravit Music offers varied, carefully selected playlists for every taste. A little something for everyone, the songs across the brand's platform have been curated to spread joy, inspire all to dream, kick-start the summer and so much more.
When asked about music, Philippe Starck says, "I love music. I work with music, and you could even go as far as to say that the quality of my creations depends on the quality of the music I'm listening to at the time. But before music, there is noise, and before noise, there is sound. Sound is fundamental, I live in sound." His playlist, aptly entitled AMOUR ranges from French chansons to Bob Dylan to Rihanna – a colorful mix that truly lives up to its name.
"Traveling around the world is exciting and my passion; It can be exhausting and sometimes even a little lonely – but with the right tracks in my ears I always have the right spirit – get ready for the next keynote or link myself to my loved ones." Close your eyes and leave the everyday behind: Christian Sieger's song selection inspires us to dream. His Duravit Playlist takes us through different decades of song. Run yourself a bath, open Spotify, select Christian Sieger's playlist – indulge in pure relaxation.
Mozart meets Kanye West – at least in Kurt Merki Jr.'s Playlist. His mix of music from his youth and current hits inspires him to dance, to be creative, and also to relax. For Kurt Merki Jr., music means inspiration – his vast array of songs and genres spark curiosity and seek to inspire listeners. 
The Songs selected by Christian Werner are a window into the creativity behind various decades. "For me music is like a glass of fine wine – it simply has to be." In addition to musical greats like the Rolling Stones and Leonard Cohen, his playlist features lesser-known, up-and-coming artists. Altogether they represent his personal favorites for find in his groove, daydreaming, and finding a personal escape.