Living-in-Place Kitchen Design Insights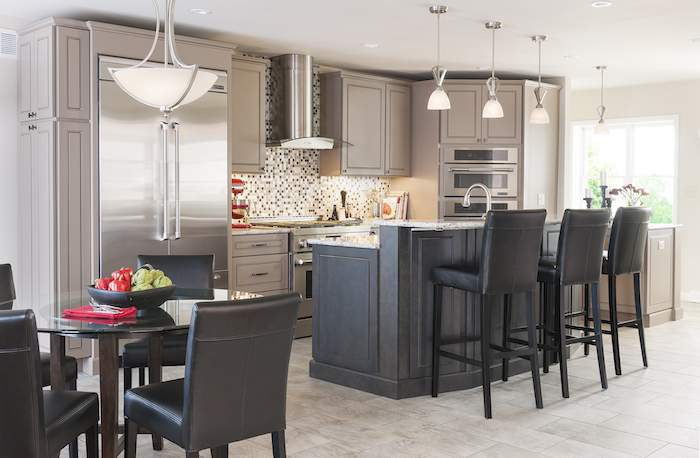 May 22, 2023
Out of all the spaces that comprise a home, kitchens stand out because of how much time an owner spends living and working in them. Yet homeowners and buyers typically give inordinate attention to aesthetic characteristics of the kitchen rather than to the safety and functionality that may be needed for future living in place.
"Kitchens get lots of interest for their eye appeal," said Louie Delaware, president and co-founder of the Living In Place Institute, which trains homebuilding, remodeling and design professionals to create homes that will sustain their residents as they age and as their capabilities change. "As in other parts of a home, design aspects that will prove to be super important in coming years tend to get less attention compared to eye-candy attractions that are often the focus of marketing."
According to Maria Stapperfenne, CLIPP, CMKBD, of Tewksbury Kitchen & Bath (designer of the project shown above), homeowners often have little appreciation for what is necessary to make a kitchen suitable for all stages of life.
"When laying out a kitchen, clients need to be conscious not only of their own needs but also for those of family, guests and others that will be using that kitchen in coming years," she explained. "Kitchens are no longer hidden behind closed doors but have become part of the visible living space where people gather. That extra attention and the budget considerations required will pay off greatly as homeowners age."
Stapperfenne is a Living In Place Institute Instructor and ambassador and has designed the kitchen for the Living In Place Institute Idea Home, which is now under construction in Louisville, Colo.
Considerations for the Living in Place Kitchen
Here are some special factors that are being worked into the Living in Place Institute Idea Home's kitchen to allow everyone to use it over years to come.
Traffic Flow. Buyers need to consider real situations of kitchen traffic flow and how those are impacted by appliances, drawers and cabinets. A functional design requires imagining the worst-case scenario when others are using the same workspace.
Drawers & Cabinets. Cabinet makers are offering design choices that give users much better access as their needs change or as unexpected health challenges arise.
"I tell clients that their most-used items need to be stored between the eyes and the thighs," said Stapperfenne. "If they're stored higher than eyes, you have to reach for them, and if they are lower than the thighs, you have to bend for them."
In the Idea Home, the designer is specifying shelving units from Rev-A-Shelf, offering pulldowns and drawer organizers to make things more easily accessible. That might be a wall cabinet with a pull-down shelf that reveals the equivalent of two or three shelves of cans or cookware, before retracting up and out of the way.
"Pulldowns and slide-out shelves allow the contents to come into the light and into the viewer's eye with minimum exertion," says Shari McPeek of Rev-A-Shelf, who notes that vision challenges are a major issue as homeowners age. Levels of brightness required for good perception tend to triple from a person's 20s to their 60s.
Fixtures & Appliances. A novel design element of the Broderick single-handle pulldown kitchen faucet by Delta is a Voice IQ module that activates with touch or voice rather than needing to be turned on manually.
"No one wants to touch a faucet with a hand that just touched raw meat," said Elle Millard at Delta/Brizo. "It can also dispense specified amounts [of water] without needing to be [near] the faucet through a connected smart speaker." She adds that the faucet, which is being incorporated in the Idea Home, has a visible color cue to indicate whether the water is hot as a safety feature.
Signature Kitchen Suite is providing a new induction cooktop design that greatly reduces the danger of fire and injury users with impairments might face with conventional gas or electric cooktops.
"They're wonderful," said Stapperfenne. "They electromagnetically heat the food in the cooking vessel cookware; the surface is safe to touch almost immediately after cooking, and they are very energy efficient. They even turn off automatically if a pan has been removed, a safety feature for those with a gas or conventional electrical cooktop who forget that it is still on."
Positioning the Dishwasher. Counters should have varying heights to allow for different capabilities of users. Stapperfenne opens clients' dishwashers and pulls out the racks to create an example.
"Around 80% will be items they unload every single time," she noted. "Raising the dishwasher reduces having to bend over to reach items and grasping that very low door."
If clients already have a difficult time bending, Stapperfenne will recommend two separate drawer dishwashers – one on either side of the sink.
Choosing Materials. Tile and countertop selections can greatly affect functionality as vision problems occur.
"Lower-sheen counters with a matte or honed finish will prevent glare from sunlight and undercabinet lighting, an effect some users find to be confusing," said Stapperfenne. "Zero- or low-maintenance products that do not require sealing are preferred."
Extra consideration given to kitchen design will prove immensely valuable as users age and encounter new living situations. The designer says her favorite compliment is when a client goes on vacation and realizes things aren't set up the way they are at home.
—By Dani Polidor, vice president of sales & marketing for the Living In Place Institute