Thompson Traders Mourns Death of Beloved Chairman Fred Starr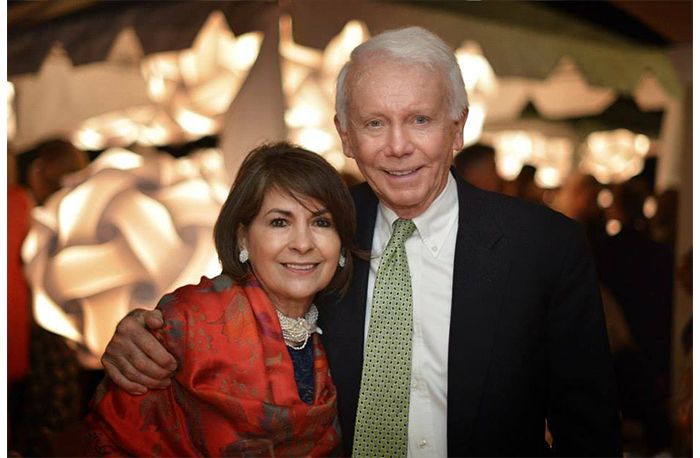 April 14, 2020
Frederick Brown Starr, chairman of Thompson Traders, died April 1 at Moses Cone Hospital in Greensboro, N.C., because of complications from COVID-19. A highly respected business legend whose career spanned more than six decades, Starr led some of the biggest names in the furniture, flooring, kitchen and bath industries. He was a devoted and loving husband, father, grandfather and friend to all he met.
As a member of the Thompson Traders family, Starr will be remembered most as a kind and humble father figure who helped lead and grow the small family business through respect, trust, compassion and boundless energy – he was 87. While his energy and spirit belied a man of his age, it was Starr's connection with people that made him a cherished friend and leader.
"Fred was the most positive person I ever met," said Alejandra Ochoa de Thompson, founder and creative director of Thompson Traders. "He guided us. He organized us. He made us who we are. He did everything with so much passion and love that it is impossible to think of a life without him."
"Fred was eternally optimistic," added Clifford R. Thompson, president of Thompson Traders. "Nothing we brought to him was bad or an impossible situation. It was an opportunity to work through something challenging and become better. He never got upset, he never got angry and he never backed down from a challenge. Fred was an encouraging person who loved our family – and we loved him right back," he added.
"Fred's selfless example of being positive every day, helping others, treating others kindly and turning every situation into a learning opportunity was such  a blessing to me and my career," said Chris DeVillers, vice president of sales and marketing at Thompson Traders.
"He taught us the ins and outs of marketing, merchandising, pricing, product development, and so much more," added Jonathan Thompson, vice president of operations at Thompson Traders. "I met with Fred every morning for coffee. This man helped me find my wife and taught me the value of respect and friendship. He was even a groomsman in my wedding. I will never forget him."
The Life of an Industry Legend
Fred Starr was born December 11, 1932, in Springfield, Mass. He attended St. Andrews School in Middletown, DE and graduated from Trinity College in Hartford, Conn., in 1955 with a degree in English. Upon graduation, he served in the U.S. Army for two years.
He joined Armstrong World Industries in 1957 where he was appointed to several management positions. In 1974, he joined Thomasville Furniture Industries, then a subsidiary of Armstrong, and became president and CEO in 1982 growing the company from $150mm to over $500 mm in revenues during his tenure. After leaving Thomasville in 1998, Starr spearheaded a bid to bring a major league baseball team to the Triad Region of North Carolina. He also served as president of the Piedmont Triad Partnership.
In 2001, he came out of retirement to become president and CEO of Natuzzi Americas, headquartered in High Point. He left Natuzzi in 2008 to join specialty kitchen and bath manufacturer Thompson Traders as CEO and chairman; recently he stepped down as CEO, however, he continued his role as chairman. At Thompson Traders he left his mark on a family business in countless ways, serving as a seasoned mentor, honest and compassionate father-figure and generous friend to everyone.
A Kind and Giving Family Man
Starr supported the local community in numerous ways. He was vice chairman of University of North Carolina, Greensboro, chairman of the North Carolina Shakespeare Festival, board member and honorary chairman of the PGA Wyndham Championship, treasurer of Reynolda House Museum of American History, board member of High Point University and board president of the Eastern Music Festival – a position his wife Sue, a classically trained singer, held for many years.

He is survived by his wife of 62 years, Sue Zook Starr; three children: Jonathan Starr and Kate Schoff of Annapolis, Md.; Curtis Starr and wife, Amy, of Fairfax, Va.; and Anne Denny and husband, Glenn, of Greensboro; seven grandchildren: Will, Hannah, Sam, Calla, Natalie, Alex and Christopher; and several nieces and nephews.